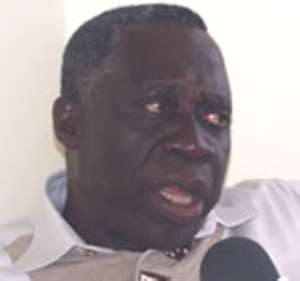 Presidential press secretary, Andrew Awuni says although President Kufuor hasn't publicly explained his recent ministerial reshuffle, he's made those explanations to the affected officials.
In his first ever studio interview since replacing Kwabena Agyepong as press secretary, Mr. Awuni said it isn't strange that bigwigs like former ministers of finance and information Yaw Osafo-Maafo and Dan Botwe were asked to step aside.
According to him, there were equally competent people who could be relied on to assume those key offices.
Mr. Awuni was speaking on a wide range of issues with Super Morning Show host, Komla Dumor who first asked him if the President had explained his recent shake-up of government, yet.
"First to strengthen his vision, refocus his programme and policies and to down size the government".
"I think that we haven't really answered the question very well. When we talk of ministers, we have 23 or 25 ministers. What we really have is the deputy and regional ministers and these ones are supposed to support the ministers. When you talk of ministers, they are 23 or 25, he said.
He however couldn't put a direct explanation on why Mr. Osafo Maafo was removed.
He said even though Mr. Osafo Maafo has been hailed by many including his critics as very efficient, the President may have some reasons which "we are not away of for asking him to step aside".