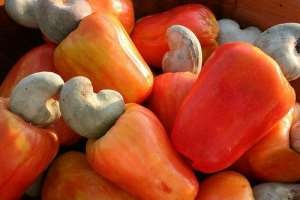 Industry players in the Cashew Value Chain have expressed concern the industry is under severe pressure as a result of restrictions brought on globally by the Coronavirus disease (Covid-19).
They say the shutdown of export markets like Vietnam and India is having devastating impact on the livelihood of thousands of cashew farmers locally.
They observe that early this year, the international market price of cashew was about US$1,500 per tonne but it is now pegged at about US$950, a 63% fall.
In an exclusive interview with this reporter on Ghana's agricultural sector, challenges smallholder farmers are facing and how policymakers are responding, the sector players said a lot of them are struggling to breakeven after contracting loans to invest into their productions.
General Secretary of Cashew Buyers and Exporters Association of Ghana, Alhaji Justice Mahama Ansomah, said the situation is heartbreaking. When asked if it's an opportunity for local exporters to take back the trade, Alhaji Ansomah whispered "where are we going to sell it?" "Our local processors have all shut down their machineries because they're not getting buyers… It is time for farmers and other players within the value chain particularly exporters to tie the knot and fix our indifferences" he advised.
Member of the Cashew Council of Ghana and President of the Association of Cashew Processors Ghana Mr. Ed-Malvin Nii Ayibonte Smith said its time government turns his attention to local processing and preservation.
"Government must invest in the building of modern processing machinery whiles financial institutions help with credits; this is our way out from this kind of crisis we have found ourselves in today," he said.
Secretary of Ghana National Cashew Farmers Association, Clement Anane clarified that the cashew sector had its own challenges but the coronavirus epidemic has exacerbated matters."100kg bag of Raw Cashew Nuts has reduced from GH¢700 to between GH¢350; we are forced to sell the fruit at a profit-less price," he grieved.
The Director for the Department of Food and Agricultural for Jaman North District Mr. Emmanuel Kwabena Afful advised Cashew farmers to embrace the enactment of the Tree Crops Development Law, which is in the offing.
"It would regulate and ensure the production, pricing and marketing of tree crops, including cashew" he said.
Dr. Anthony Augustus, Mainoo Project Manager for the Adventist Development and Relief Agency (ADRA) and also Project Manager for the Bono-Asante Atea (BAAT) Project indicated that there is the need to support one another in these trying moments.
"Our cashew farmers are in crisis and this is the time they need more of our support; ADRA will soon begin talks with some financial institutions and individual investors and see if we can find a way of buying the raw nuts and storing whiles waiting for the pandemic to normalize across the globe adding that Ghana alone contributes 43.8% Cashew to the global market," he said.
The Chief Executive Officer of the Ghana Chamber of Agribusiness, Mr. Anthony S.K. Morrison called private sector players in the country to invest more into the cashew value chain at this critical moment.
"The Chamber as soon as possible will start having conversation with other international players about what we can do to aid our cashew farmers. Under one umbrella we can fight for reforms," he said.
A farmer and legislator for the Kintampo North Constituency Kwasi Etu-Bonde revealed that the cashew sector is constrained by weak value chain linkages due to uncoordinated policies.
"Ghana has a comparative advantage to process more raw cashew nuts to the global market yet the non-existence of key agricultural infrastructure and high utility bills makes it impossible for local processors and exporters," he pointed out.
BY Quainoo Reuben