Yellowstone explores wireless world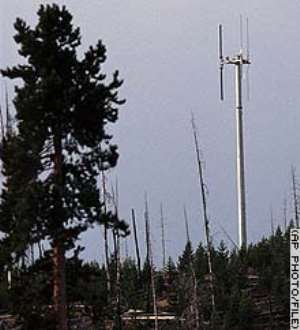 Terry Search's horseback clients seek a special experience at Yellowstone National Park and that doesn't include a guide with a phone to his ear or a fellow vacationer yakking to folks back home.
So people tend to respect cell phone etiquette, and, "Very seldom do we get someone who's loud and obnoxious," said the owner of Yellowstone Mountain Guides. In fact the breakdown between adventure clients who use phones and those who leave communications behind is about even, he said.
Search himself discreetly dials his phone for business, and said wider cellular coverage in Yellowstone would be "awesome."
Such opinions are sure to proliferate as park officials develop a plan to cover any expansion of wireless towers, antennas, Internet, and radio services in the sprawling geothermal park.
Park officials already have sought suggestions from telecommunications companies that now operate inside Yellowstone or want to do so, according to documents obtained under the Freedom of Information Act by the advocacy group Public Employees for Environmental Responsibility.
Communication companies that are hoping for expanded wireless opportunities told The Associated Press that park officials asked them at the March 31, 2005, meeting to identify potential sites for future wireless towers or antennas that would have the least impact on parkgoers.
Yellowstone spokesman Al Nash said officials are working on "an environmental assessment for wireless communications," but as yet have made no decision to expand existing services. The planning is designed simply to set the stage for such decisions in the future, he said.
"The goal is to give us an appropriate framework and a plan on which we can make solid decisions."
The plan will look at two-way radio, cellular communications, wireless Internet and research devices, he said, adding that any potential new cell towers would be in "existing, disturbed, developed areas," where most people congregate and roads and power already exist.
"The questions about backcountry and solitude are valuable and those are the kinds of things this plan will certainly delve into," he said.
The advocacy group PEER contended the park's 2005 meeting with industry was illegal because there was no public notification.
"The main asset they're giving away is solitude, the ability to be cut off from the modern world. We're saying before you make that decision why don't you talk to people," PEER Executive Director Jeff Ruch said.
Nash said the public will have time to weigh in next month during a comment period before officials draft the plan, and again when the draft circulates in late summer. A final decision is expected by year's end.
The released documents indicate the 2005 meeting participants, including Verizon Wireless, Qwest and five other communications companies, discussed several tower locations beyond the five that now provide limited park coverage.
"You had everything from people wanting to be given a construction permit in that meeting to people who were there to try and hear where Yellowstone was in their process," said Tony Hafla, president of Teton Communications, longtime provider of two-way radio service for the park. His company wants to enhance its service with more towers.
Some meeting participants are skeptical that additional wireless service ever will come to the nation's first national park.
"We've lost interest it's been so long. It doesn't seem it's going to happen," said Marco Morales, president of WISPWest.net, a Montana Internet provider.
"They want to keep the park as it is and we just want to provide for our customers," said David Albertson, real estate manager for Ubiquitel PCS, now under Sprint. "At the end, it seems like the missions are so different."
He complained the status quo is unfair because his company hasn't won approval to set up service and has to pay roaming charges to the few providers already in the park.
Yellowstone drew criticism from environmental and historic preservation advocates for erecting a cellular tower in the Old Faithful region five years ago. Officials eventually lopped 20 feet off its 100-foot height after scorched trees toppled and left it more visible.
Tourist opinion on staying connected is split, said Marysue Costello, executive director of the West Yellowstone Chamber of Commerce.
"There are those who think this is where you come and get away from everything. On the other hand, it is now the expectation of a majority of people. People come in here and are surprised that they can't get cell coverage."
Fewer than 30 cellular towers dot 19 of the nation's 390 national park units, said Lee Dickinson, special park uses manager.
The National Park Service plans to update wireless policy systemwide, although most decisions still rest with individual parks, she said. One new regulation will state that companies must share towers whenever possible, she said.