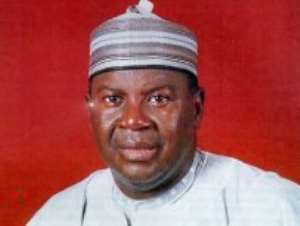 Ghana is making efforts to produce light aircraft for sale.The Vice-President, Alhaji Aliu Mahama, dropped the hint in a speech read on his behalf by the Minister of the Interior, Papa Owusu-Ankomah, at the second Hang and Paragliding Festival on top of Mt Ejuanoma, near Atibie on Saturday.
The event which was organised by the Ministry of Tourism and Modernisation of the Capital City with sponsorship from Kasapa, operators of cellular phone services, brought together 15 foreign pilots and gliders from seven countries to the summit of the mountain and Nkawkaw before they landed at a nearby stadium to entertain Easter merrymakers.
Before the event, one of the light aircraft flew the Kasapa emblem over the mountains to the admiration of the merrymakers.
According to the Vice-President, the ultra-light aircraft, which were produced with the support of the Ghana Civil Aviation Authority (GCAA), would be used in agriculture and for other purposes and expressed the hope that the industry would be expanded to make available aircraft for sale and commended the GCAA for its initiative.
"Let me say with pride that these aircraft you are seeing have been built, maintained and operated in Ghana; they are working to support our agriculture and other productive ventures in the country and I commend the GCAA for their support in building this important national capacity", Alhaji Aliu Mahama stated.
He added that the production of the aircraft was the result of Ghana's venture into hang and paragliding and that the venture was a reflection of the government's Golden Age of Business that linked tourism with agriculture.
Alhaji Mahama who asked the Ministry of Tourism and Modernisation of the Capital City to ensure that tour operators developed packages that would attract tourists into the country, also called on the ministry to consider adding hiking to the festival.
Additionally, he called on the Ministry of Education and Sports to promote the establishment of gliding clubs in second cycle schools.
The Tourism Minister, Mr Jake Obetsebi Lamptey, was happy that the festival had come to stay and paid tribute to his former Special Assistant, who died in a motor accident recently, describing him as the brain behind of the festival.
The Deputy Eastern Regional Minister, Madam Suzzie Mensah, for her part, said the government was providing and improving social amenities in the Kwahu Traditional Area and appealed to the business community to invest in the area.
The Managing Director of Kasapa, Mr Robert Palitz, said his outfit was working hand in hand with the West African Air Solutions and Services Providers (WAASP) for the construction of light aircraft in Ghana for such purposes as tourism, control of crop disease and photography.
Mr Palitz, a veteran pilot, said Kasapa would sponsor the construction of suitable airstrips at various locations in the country, primarily in towns and villages.