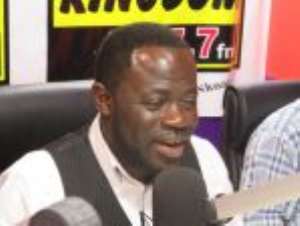 Kwadwo Boateng Agyemang
New Juaben North Constituency Chairman for the New Patriotic Party (NPP), Kwadwo Boateng Agyemang has said National Democratic Congress (NDC) flagbearer, John Mahama is a confused flagbearer and not the right man to lead the country.
According to him, former President John Dramani Mahama appears confused and as a result, lacks the knowledge to review the free Senior High School policy if he comes back to power.
The response of the Chairman follows the comments made by the former President that a future National Democratic Congress (NDC) under his watch would review the Free SHS policy to make it better.
Speaking as a panel member on 'Pae Mu Ka' with Lawyer Ohene Gyan on Accra based Kingdom FM 107.7, he said: "If he [Mahama] had been in the position, what will he do. He has nothing to offer Ghanaians, he is a confuse flagbearer, that is not leadership, he should tell us exactly what you will do now,
Instead, he indicated "President Mahama's message of the rescue mission is not resonating because it does not accord with the reality of the situation Ghanaians face today."
He also gave a litany of alleged corruption cases during Mahama's presidency, which he thinks, make Mahama hypocritical when he talks about corruption.
According to the NPP Chairman, former President Mahama was "clueless and had not told us what he will do because I know he does not know what he will do that is the simple answer."
He stressed that the National Democratic Congress (NDC) flagbearer will never rule Ghana again.
Background Former President Mahama has insisted that he will review the government's flagship free-SHS policy within his first 90-days in the office if elected in the 2020 general elections.
He noted that he will engage relevant stakeholders to ensure that the policy is bettered.