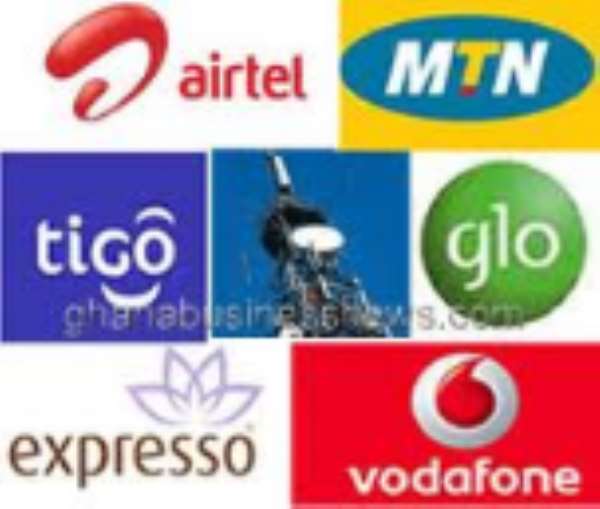 Whilst Kigali beams as the modern-day poster child of African progressivism, discussions in Ghana, these two weeks, have been besieged by a goulash of commentaries on the Communication Service Tax (CST) and KelniGVG (Subah, Afriwave et al), causing midnight panic attacks—and further denting general goodwill—among various stakeholders stung by this wasp: government, telecommunication companies ("Telcos"), and end consumers.
From hindsight, I am beholden to think that it was a matter of sheer unsubstantiated skepticism on the part of decision makers, which marked the controversial entry of KelniGVG (whom we pay close to US $2M/mo) into the Networks and Telecommunication Service Deliveries management space. To date, none of the accusations of tax evasion and SIM box fraud levelled against the Telcos, have been justified.
Granted, there exists a "net incentive" for attackers to exploit our legacy technology ecosystem so securing Ghana's cyber-infrastructure is not only a national security priority, but also one of immense economic benefit.
Thus, the quest to upgrade our baseline telecommunication infrastructure—and data security standards—including management and control networks, trust domains, and a set of proxies, is one of urgency. Compelled by this move, and against the backdrop that from as long as 2017, the Communication Ministry (CM) had been mainly sustained by funding from the World Bank and National Communications Authority (NCA) and not the Central Government, the CM, in consultations with the NCA, implemented a 3% CST. This has been a castling. Telecommunications Companies, largely MNCs, with instructions from the Ghana Chamber of Telecommunications, began charging "users" the 9% CST effective October 1st, 2019. In a somewhat cavalier response, the Telcos [perhaps] feeling disenfranchised by the government, decided to charge the 3% increase upfront.
But we cannot classify this as an attempt by the Telcos to make government unpopular, if they are simply complying with the Finance Minister's edict.
Given that markets have proved to be inefficient homogenes and people are "predictably irrational", should businesses be orphaned to the benevolent 18th century invincible hand and the interplay of market demand and supply to lead us to an optimal (read: general) equilibrium?—if any?
The leviathan subprime crisis that flared-up in 2008 in the US and ensuing spiraling debt crisis that threatened Europe are recent anecdotal evidence that reflects the tenor of the invincible hand being a tad utopian.
So where do regulators draw a thin line between providing a fertile business climate and issuing policy directives, without unwittingly meddling in micromanaging?
Instances of government's issuing policy injunctions to disgorge behemoths of practices it deemed as bad faith abound in history: the Progressive Era and New Deal years of the 20th century saw the US government creating legal and regulatory frameworks to promote competition and accountability amongst the biggest companies—offsetting inequalities of the Gilded Age
Let's face it, the argument about the possibility of a drop in Telcos' market cap, poltergeisting them to act in the best interest of the consumers is a non-starter. Historical studies confirm that markets that ride on the back of network effects, when they have attained critical mass, create a lock-in that makes it non-viable to rid oneself of a "service provider"—consumers are hamstrung on choice!
Even though the government should continue racking up pressure on Telcos for a customer-centric paradigm by demanding reliability of telecommunication network and improved quality of services from their complex heterogeneous network, stark entry barriers make tunneling into markets such as the traditional Telecommunications industry, by default, oligopolistic. Hence, it is almost offhand to think that Telcos are making a killing; so they should factor in the 3% increase into their pricing model without any qualms: they have watched the ad valorem tax, from an initial rate of 2% (Communication Service Tax Act, 2008 - Act 754), grow to 6% (Communication Service Tax Act, 2013 - Act 864 [amendment]), to the current rate of 9% (Communications Service Tax Act, 2019 - Act 998 [amendment]). Also bear in mind that, Telcos are already remitting 2.5% NHIL, 2.5% GETFund, 12.5% VAT as tax to the central government (agreed, these are tax jurisdictions, so one must comply). But should the Telcos even consent to treat 3% CST as "usage" tax, "users" will still have to ultimately shoulder total costs, so what is the point of the backlash?—a nuanced case of demagoguery?
Taxation is not entirely marshmallows. Be that as it may, it (taxation) may seem like the most "asymptotic" way to primarily raise non-debt funds. Yet, it must be said that, failure to carefully probe other alternatives is akin to a famished lad losing restraint upon sighting a tempting repast. Since subscription-based internet and voice bundles are borne on the ticket of market risks, thus impelling the Telcos (in Ghana) to grudgingly provide mobile postpaid lines, a stratified pricing model spread along tiers to save costs and ensure targeted service offerings emerged. Howling calls from the CM for a unilateral rollover strategy, accusing the Telcos of clawing back the 6% CST through the genius of marketing sophistry, is dated—and well-meaning Ghanaians should balk at such tacit attempts by the government to milk-dry Telcos of every leverage they wield. It is a matter of principle.
Where does this leave section 25 (Tariffs) of the Electronic Communication Act (2008) which stipulates: "Tariffs for electronic communications services, except those which are regulated by the Authority under this section shall be determined by service providers in accordance with the principles of supply and demand."? Competitive oligopolistic Telecommunication landscapes like those of Ghana, imply low margins etc. Nonetheless, consumers deserve good value for money.
In arguing for the creation of some sort of neoclassic, "market-oriented ecosystems" approach in responding to such market gales, I am struck by another famed argument: the notion that profit maximization is the raison d'être of for-profit entities.
Until recently, this belief was reinforced by groups—such as the Business Roundtable—that have prioritized "shareholder primacy" over the multi-stakeholder model. Essentially, it is a "fork" of a dictum that dates back to the 1970s, when free market economist Milton Friedman, in his New York Times editorial, "The Social Responsibility of Business is to Increase its Profits", postulates that "there is one and only one social responsibility of business—to use its resources and engage in activities designed to increase its profits."
Of course, I admit that there is some truth to this statement. However, I would also posit that unfettered corporate power, since the days of feudal lords, have resulted in guerilla oligopolies, [seeming] immunities from prosecution, tax evasions through offshore havens, among others. Several scholars, including the likes of R. Klitgaard, T. Søreide, S. Rose-Ackerman, J.A. Ayee et al, have argued that controlling public sector corruption is a prerequisite for addressing that of the private sector. So whilst it is easy to be pointing accusing fingers at the Telcos for their alleged corrupt practices, we ought to also be reminded that government has clearly not shown its forte in these hallowed cloisters. The Siemens bribery scandal (approx. US $1.4Bn), Alfred Agbesi Woyome's Judgement debt saga (approx. US $10M), Mallam Yusif Issa's Sports Ministry rot (US $46K), Abuga Pele and Philip Assibit's GYEEDA infamy (approx. US $750K), etc., are but a few cases of brazen corruption.
There is a need for a holistic reformation of corporate governance codes to enforce precedence of long-term company success over short-term profits, realigning legislation to mitigate egregious social and environmental failures, improving diversity, equity and inclusion around the boardroom table, else, stand the risk of compromising long-term competitiveness. Most of the Telcos have chalked up some modest success in this department, but more can be desired.
How does a smorgasbord of scalable technological innovations, bolstered by a viable technology ecosystem, benefit you?
For Kofi, that online auto spare parts dealer at Abossey-Okai, this would mean he could receive cross-border mobile money payments rid of fraudulent transactions and associated chargeback claims. Awudu, a young computer programmer and entrepreneur at Berekuso, geeking at his terminal, can now catch a whiff of Diet Coke before implementing solutions to counter potential waves and phases of brute force attacks against AWS EC2 instance SSH authentication. For Adzo, that peasant farmer in Asankrangwa, and others like her situated at the "bottom of the pyramid", this could translate as benefits inured from increased financial inclusion such poverty eradication, job opportunities or good health etc., providing the "innovation narrative" that tailwinds the nation to achieve the United Nation's SDGs. You should probably be somewhere within this spectrum.
I am not trying to dramatize the mundane, but a viable technology ecosystem does have kerb appeal.
Going forward, in undertaking projects of this kind, we should consider alternatives such as [crudely] creating an instrument that allows businesses (since they have a vested interest), government and other stakeholders to invest based on dual-class structures, escrowed and transparently managed by reputable independent bodies. Perhaps, even the idea of creating a special purpose vehicle "holdings", can be further explored. We could also create a "cost-effective" technology-enabled platform such as Reddit, taking into account contextual determinants, that broadens multi-stakeholder engagement—no individual (wo)man is the sole repository of knowledge. Finally, we must keep a weather eye on our fiscal position as a country.
As the good old Emperor, along with his kinsmen, Telcos, and a horde of party activists wrap up this week's "bread and circuses" scrum, I am haunted by this ache: does this tax smack of a regressive one given the growing economic inequality and ostensive liquidity crunch? I am left to my fate as these words from Lucius Annaeus Seneca, Roman stoic philosopher and tutor of the emperor Nero, linger on: "Petty sacrilege is punished; sacrilege on a grand scale is the stuff of triumphs."
"May [we] be luckier than Augustus and better than Trajan."
Samuel Nyarko holds a Bachelors (Hons) in Information Technology from Ghana Technology University College. He describes himself as a perennial student who is passionate about addressing global challenges (particularly, in emerging markets) through a fluid confluence of the development of socially relevant technologies, effective policies and sustainable innovative business models.
Disclaimer: While meticulous effort has been taken to verify the accuracy of the information in this op-ed, the author makes no guarantee, representation or warranty and accepts no legal liability or responsibility for any inaccuracies or misrepresentation contained in this editorial.