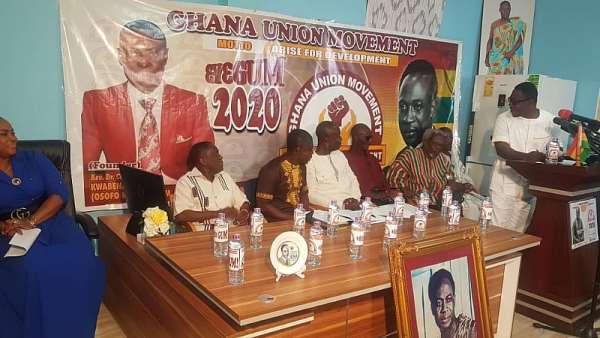 Founder of Life Assembly Worship Center, Rev. Christian Kwabena Andrews, aka (Osofo Kyiri Abosom) has outdoored his own political party, 'Ghana Union Movement'(GUM) with the motto "Wob3te GUM" in Accra.
He made the official pronouncement in his church auditorium, where he briefed the press the party's readiness to participate in the 2020 General Elections.
According to him, it's very important that the Ghana Union Movement will also contribute to the nation-building or democratic shaping of our country's development especially the well being of the citizens of Ghana and peaceful co-existence with the whole world.
The following are some the areas he touched on to be amended when his party is been elected to power :
Employment:
According him, there shall be employment for all . both educated and the uneducated. Adding that, employment shall not be only certificate-based but rather by ability has proven skills except in instances where specialization required.
Industrialization:
He cited that, the party is not in to sabotage any political party rather bring a change of the rapid industrialization that shall transform Ghana by processing all raw materials in the country.
"Most of our export proceeds shall not be taken in liquid cash but rather in exchange with modern equipment from the develop world", he said.
Security:
He said the military will support the police personnel in their day to day with the provision of all modern equipment needed for effective operations.
"Every police personnel from the rank of sergeant shall have free courses in law education ( School ) to acquire adequate knowledge in law to be able to protect our law's". Adding that, their government shall assist the security service personnel financially to own houses before their retirement and also review the salaries of the security service's not later than 90 days in office.
Assuring that no politicians shall be allowed to interfere in security services operations.
Corruption:
He assured that no singular person shall go unpunished when given the mandate to rule under his "GUM" administration.
"The greatest cancer which has befallen our country and has nepotically been overlooked by our leader's corruption. Corruption shall be our greatest energy as a government should Ghanaians give us the mandate and no single person shall go unpunished under our administration for corrupt practices".
Education:
Touching on Education, the man of God stressed that the free education under 'GUM' administration shall not be where only the governments' fee is free but the parents is indirectly billed to buy plenty of items which are more costive than the school fees itself. "If it is free it must be totally free", and the free education will start from Creche if he comes to power 2020.
On Galamsey issues, Osofo Kyiri Abosom noted that all small scale mining activities shall only be done or engaged in by Ghanaian, foreigners shall not be allowed to be part of small scale mining.
He also said that he is the "new Kwame Nkrumah and that the spirit of Nkrumah" is back and ready to do what both previous and current governments are not able to do.