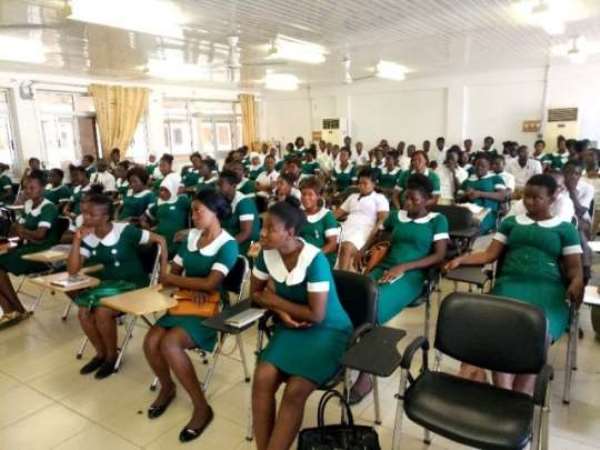 Our schools cry for 'school nurses', so let's complete the free SHS initiative.
WHO SAYS THERE are no employment vacancies for our unemployed nurses? Maybe, we haven't looked long enough to find what we can do with their skills.
The fact of the matter is that Ghana doesn't know how to be prudent when it comes to the utilization of her human and natural resources ,let alone to get the greater dividend from them. Harnessing our natural and human resources for development is not in our DNA.
Not long ago, while I was contemplating on how ( on a pro bono), the government could put our unemployed nurses to work , Sadia(not her real name )walked by to retail her assorted local beverage wares. She has completed her nursing training in 2017 ,but she sells 'sobolo' drinks for a living. She says she is tired of waiting for her 'posting' so she needed to do anything to survive. The unemployed nurses' stories abound!.
Her predicament is a national paradox. Ghana is a third world country with very unstable and substandard health- care delivery system yet, tons of our health professionals ,specifically, nurses are home just killing time .Can we think outside the box a little and find solutions to our emerging problems ,while we keep our astronomical healthcare expenditure at bay ,instead of turning it into a political football?
Seriously, can our fragile NHIS withstand the pressure and the demand on its shoulders if we don't find ways to limit the number of sick people who 'pilgrimage' to our health- centers and hospitals on a daily basis ? .
Undoubtedly, the effectiveness of every healthcare system is best measured in terms of how it keeps its people healthy, properly and quickly treats its patients at the least cost. And, the best healthcare system is the one that prevents of diseases and limits frequent hospital visits.
That is where primary healthcare comes in. This calls for NHIS and healthcare stakeholders to collaborate to work on 'preventive measures'. It's much, much cheaper to prevent someone from getting sick than trying to cure the person when he gets sick.
In united states of America, nurses are stationed at the schools to take care of the students' health needs and that has cut down hospital and emergency room's visits tremendously. In fact, some health insurance companies in the states give discount to policy holders if they stop smoking or spend time in the gym periodically. They sometimes top it off with paying half of the cost of using the commercial gym .
The point is, the government loses money every time people show up at the hospital which costs more to treat their sicknesses . So to save money, there is a need for this country to practice PREVENTIVE HEALTHCARE SYSTEM in our towns and schools.
This brings us to the employment for our unemployed nurses. My suggestion is, every school in Ghana should have one nurse. Yes, we can afford it if we think deeply enough about its benefits in a long run .Here are the benefits of placing nurses in our schools:
1.By placing a nurse in every school in Ghana preventive health care will be promoted and improved; for the fact that school children won't have to crowd our hospitals' corridors if they are taken care of at their various schools before they get really, really sick.
2.It will create employment avenue for our unemployed nurses.
3.The school- children's attitude will ultimately 'de-program' some of our nurses who are so devoid of humility, respect for their patients and empathy. Perhaps, by the time they get to the hospitals' wards their time spent with the school children would humble them and deflate their over- inflated egos that they acquired while in school.
Yes, some Ghanaian nurses lack humility and ability to be sympathetic ,so anything that can make them more humane is a step in the right direction. You see, I promised to work on the nurses' behalf and I'm doing exactly that.
A lot of people complain about the maltreatment some of our nurses dish it out to patients who go to public hospitals and health centers. I really don't know if they hate sick people or they don't like the skills they spent money and years to acquire---I am very confused. Anyway, I hope they will leave that attitude at home, if indeed they want to be employed.
Ooop!, did I rain in on your expectations and wishes? Did I hurt your feelings that bad ? Oh well, grow up and stop acting like a spoiled brat!
Oh, where was I ? Anyway, as I was saying, the government will save tons of money from this initiative if we are very serious about it.
4.The savings that will be generated from practicing preventive healthcare measures can be used to pay for the nurses' salaries and much more.
This will be a win, win situation for the nation and the stakeholders.
Where there is a will, there is always a way, so let's put this suggestion to work and see if it won't work.
The free SHS initiative will not be well-footed without the nurses' stations in our schools' campuses.
Please prove me wrong if I'm right and leave the light on when you leave the room.
Kwaku Adu-Gyamfi(voice of reason)