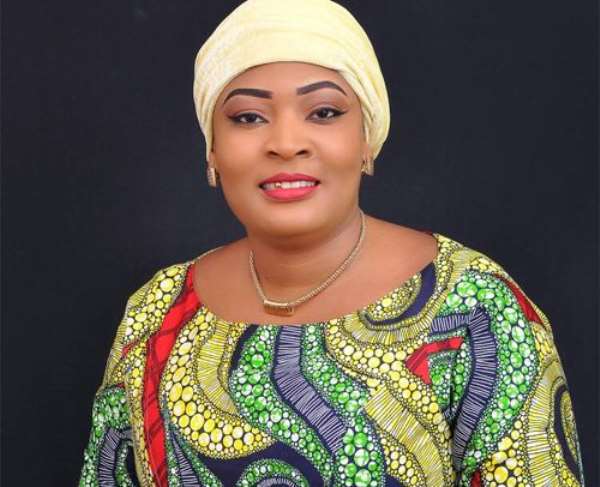 Alhaji Shanni Mahama
Edmond Gyebi Writes: The Sterling Achievements of Alhaji Shanni Mahama (father of Hajia Abibata Shanni) in Yendi Constituency as MP and Deputy Agric Minister in the 27 months of Busia's Regime
The Yendi Constituency of the Northern Region will inarguably become one of the centres of attraction for many political watchers in the upcoming Parliamentary Primaries of the ruling NPP, as the contest between the aspiring candidates keeps becoming much more contentious and interesting. All three aspirants Hajia Abibata Shanni Mahama Zakariah (Mrs), Deputy CEO of MASLOC under the Office of the President, Alhaji Farouk Mahama, Deputy Procurement Manager at Ghana COCOBOD and Alhaji Baba Danney, Finance Officer at the Northern Regional Coordinating Council (RCC) have tried to prove how munificent, altruistic and how avid they could be in their avowed expedition to represent the good people of Yendi in Parliament come 2020.
Their support to the constituents in monetary and material terms cannot be underestimated. However, this article is to set a tone in terms of legacy so far as the growth of NPP in the Yendi Constituency is concerned. In the last few years, one of the three aspirants is desperately trying to use the name of his late father to his advantage. But my little search on impacts in the Yendi Constituency with regards to Father's legacy points towards Hajia Abibata Shanni Mahama Zakariah even though she hardly uses her father's legacy as basis for her contest. I do not intend to make this write up too capacious or lengthy. But I wonder why someone who is a grown man with a wife and children will depend on his father's credentials instead emphasizing on his own credentials.The question that quickly comes to mind is which legacies each of the aspirants can rely on. How well their families serve the people of Yendi and what can be traced about their family legacies in Yendi?
On the other hand, I came across an article titled: "NPP must grow up in Dagbon" written by the former Member of Parliament for Tamale Central, Hon. Wayo Seini published on www.modernghana.com on February 6, 2007 which set the tone for this piece. (Ref: https://www.modernghana.com/amp/news/123279/npp-must-grow-up-in-dagbon.html). Hon Seini's article talked mainly about how the Dagbon chieftaincy crisis had affected the political fortunes of NPP, what should be done to reverse the trend and also cited the immeasurable efforts and contribution of the late Alhaji Shanni Mahama who incidentally is the father of one of the three NPP aspirants in Yendi, Hajia Abibata Shanni Mahama Zakariah. So I became quite surprised about why Hajia Abibata is not also trumpeting or taking advantage of her father's good name, excellent service to the people and NPP, and his greet legacies in Yendi like one of her competitors does. But I think the people of Yendi and Ghanaians must know about this truth. These are some of the excerpts in the article:
Hon. Wayo Seini stated that:
"In Yendi's case we have the late Alhaji Shanni Mahama to thank for building the constituency into an impregnable fortress for the Danquah/Busia tradition through his open interaction with everybody in 1969 and 1979 when he was the Progress Party and PFP parliamentary candidate, respectively, for the constituency and in 1992 to 1996 when he was around to help when he was not even a candidate. I particularly urge all Dagomba office holders in the NPP government to remember that politics is about numbers. They should therefore emulate the good examples of the late Alhaji Shanni Mahama and Hon. Rita Tani to help the party grow in Dagbon. Alhaji Shanni, as Deputy Minister for Agriculture never discriminated against anybody on the basis of local divisions. Indeed, he endeared himself to most rice farmers in the North, and Dagbon in particular, when he assisted most of them to establish themselves in rice farming. So far as I am concerned, Alhaji Shanni Mahama became the unrecognised and unsung hero for Ghana's achievement of self-sufficiency in rice production in a few years after he and the Progress Party were thrown out of government."
Subsequently, I also found out that the father of Hajia Abibata Shanni Mahama Zakariah, late Alhaji Shanni Mahama as an MP for Yendi and Deputy Minister of Agriculture in 1969, is on record among others to have done the following:
1. Established the Yendi Secondary School
2. Brought electricity to Yend
3. Did the first tarred road in Yendi
4. Introduced affordable housing (low cost) bungalows in Yendi.
5. He also constructed the Malzeri Irrigation Dam
6. Assisted several local farmers in the Northern Regions in general and Yendi in particular with farm implements such as tractors and combine harvesters among others
7. Introduced women to trade and assisted them with small loans through cooperative societies.
8. Sponsored the education of many young students in Yendi at the time and provided them with jobs, some of whom are still alive and have testified. Most importantly, Alhaji Shanni Mahama was respected by all. But in spite of all these impeccable and remarkable achievements by her father, some of which are not even listed here, Hajia Abibata Shanni Mahama Zakariah does not make any noise about that or appeal to the cherished delegates to compensate her based on her father's track record. Rather, she appeals to the revered delegates to look at how she has been able to relate to them, what she has done so far in terms of impacting lives, what she intends to do when voted as Member of Parliamentary, her childhood in Yendi, her educational background, her work experience, her local and international networks, her flawless hard earned reputation and credibility among others. In fact, the Deputy CEO of MASLOC at the 2019 Mother's Day celebration she organized in Yendi to honour hundreds of women with huge hampers, the first of its kind, she told the people, "I am not trying to lead the people of Yendi because of what my late father did, but because I am also more than capable to serve my people and bring home the needed development, and I know where and how to get those things done". Abibata's father, Alhaji Shanni Mahama was only 27 months in office as Deputy Minister for Agriculture and achieved so much for the people of Yendi and NPP. It tells that the bar has been raised so high for Hajia Abibata and she will definitely live up to the expectations of the Constituents.
In cataloguing the achievements of Hajia Abibata's father, l would like to reiterate and acknowledge the developmental works done by Successive MPs and most importantly the peace of Dagban that has come to stay through the great efforts by the Current MP, Hon. Alhaji Mohammed Habib Tijani, the Regional Minister, Hon. Salifu Saeed and all stakeholders championed and delivered by our indefatigable President, H. E. Nana Addo Dankwa Akufo Addo.
If the NPP delegates in Yendi are to vote on the basis of aspirants fathers' achievements and the aspirants own capabilities, then your guess is as good as mine!!!
Source: Edmond Gyebi