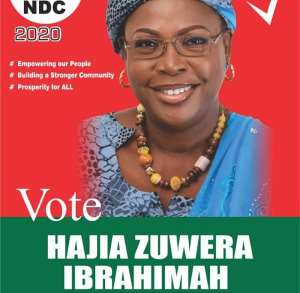 Hajia Zuwera Ibrahimah has won the National Democratic Congress' (NDC) parliamentary primaries in the Salaga South constituency.
Hajia Zuwera Ibrahimah garnered 472 votes to win the election in the Savannah region.
She beat Alhaji Ibrahim Abubakari Dey, a former two-term MP for Salaga, and Alhaji Ahmed Saaka Shaibu Dan, a second-time contestant who came second in the 2016 parliamentary primaries behind Dey.
This is the first time since 1992, a woman has won the Salaga South ticket in the NDC parliamentary primaries.
Hajia Zuwera task is to retake the Salaga South seat from the New Patriotic Party's Salifu Braimah, the current Savannah Regional minister, in the 2020 elections.
In her victory speech, Hajia Zuwera expressed confidence that she will unseat her opponent come 2020.
"The journey has not been easy, for the first time a woman has won the primaries. It is a victory for team Hajia Zuwera, a victory for Salaga south and the NDC. I know I am winning the constituency seat back to the NDC in the general elections by the grace of God"

https://www.youtube.com/watch?v=9KD2KEA2zoI
Hajia Zuwera is a former Minister-Counsellor and Head of Information and Public Relations of the Ghana High Commission in London, she holds MA in Diplomacy and International Business from the University of East Anglia in the UK.
Also in the Daboya-mankarigu constituenc, the incumbent Member of Parliament Lawyer Mahama Shaibu Obey has broken the jinx to be the first seating MP to run for the second time. He beat two of his contenders, Baani Abudu Nelson a former MP and Timothy Dingana.
Other winners in the Savannah region include the Incumbent MP for Damongo constituency, Adam Mutawakilu and other incumbents in the Salaga North constituency, Alhaji Alhassan Mumuni.
The aspirants in the remaining three constituencies out the seven in the Savannah region went unopposed. Below is the full list.
Elected NDC candidates in the Savannah Region
Salaga South Constituency
1. Hajia Zuwera Braimah (472)
2. Alhaji Dan (116)
3. Alhaji Lukman Jawula (1)
4. Alhaji Ibrahim Dey (260)
Total votes (870)
Rejected (1)
Salaga North Constituency
1. Hon. Alhassan Mumuni (308)
2. Mohammed Abdulai (50)
Total votes (362)
Rejected (3)
Daboya/Mankarigu Constituency
1. Hon Mahama Shaibu (261)
2. Hon. Abudu Nelson (123)
3. Timothy Dangana (172)
Total votes (433)
Rejected (3)
Damongo Constituency
1. Hon. Adams Mutawakilu (403)
2. Yakubu Yussif Castro (102)
Total votes (521)
Rejected (4)
Yapei/Kusawgu Constituency
1. Hon. John Abdulai Jinapor (Unopposed)
Sawla-Tuna-Kalba Constituency
1. Hon Andrews Chiwitey (Unopposed)
Bole-Bamboi Constituency
1. Hon Yusif Sulemana (Unopposed)