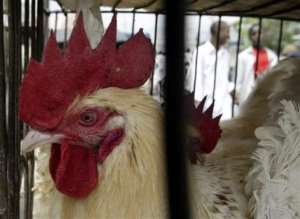 Kumasi, Feb. 15, GNA - The Ashanti Regional Co-ordinating Council (RCC) has constituted a technical committee to put in place a preparedness and response plan to handle all suspected bird flu cases should the disease emerged in the region.
It has also activated the Regional Emergency Operation Centre to support the technical committee in the event of the outbreak of the disease.
A statement signed by Mr Sampson Kwaku Boafo, Ashanti Regional Minister and chairman of the RCC and issued in Kumasi on Wednesday, said these contingency measures had become necessary in view of the dreadful nature of the flu and the proximity of the country to Nigeria, where there had been reported cases of the outbreak of the disease. It entreated residents in the region to report all unusual death of local, poultry and migrating birds to the nearest veterinary office, NADMO office or a health facility.
The statement further advised the public not to have contact or eat dead birds to avoid contracting the disease.
It asked people living around wetland areas within the region to mount surveillance and report any strange behaviour amongst migrating birds to the nearest veterinary office.
The statement assured the public not to panic, since the situation was being monitored closely to prevent any eventualities.