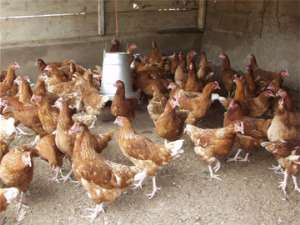 The news of the outbreak of the bird flu in Nigeria has created fear and panic among Ghanaians. A number of people ADM spoke to were very worried especially when one of the major sources of protein in Ghanaian is chicken. In fact, chicken is the favourite at parties, in restaurants and just for ordinary consumption.
"In fact we need to be very careful. If this thing gets into the country, we will really suffer", said a petty trader to ADM.
A chicken seller said: "The fact that the disease is in Nigeria means we are not safe. For me a chicken seller, if the disease breaks out then it means my source of livelihood will be over".
ADM spoke to the Ghana Health Service and the Veterinary Service on the close proximity of Ghana and Nigeria and what threat there is to Ghana.
The Ghana Health Service (GHS) assured the public that despite the reported outbreak of bird flu in Nigeria in West Africa, health personnel in Ghana are poised to handle it should there be a possible break out in the country.
Allaying the fears of Ghanaians a source who wanted to remain anonymous said GHS and the Veterinary Department of the Ministry of Food and Agriculture have in place a special committee keeping surveillance on bird flu. He said Ghana has a technical group comprising the Ministry of Health, Ghana Health Service, Veterinary Department and the Ghana Wildlife Division which meets once a week to discuss how Ghana is preparing in case of an outbreak of bird flu.
Dr. Frimpong of the Veterinary Department told ADM that the department has been educating the public on the disease. He said specialists in the department had contacted colleagues in Nigeria but so far it is not clear how the disease got to the country.
"We have made some contacts in Nigeria but they even don't know how the disease got there. They were caught unawares, however investigations are down way", he added.
He appealed to the general public to inform the department of any unusual bird they come across or see any unusual behaviour in their birds.
"The best way we can protect ourselves against any out break is for the public to help us by reporting any usual behaviour in their birds and must also heed to the message we are spreading about how the disease is", he said.
Mr. Frimpong explained that bird flu can't be prevented because the avian influenza is an infection caused by a viruse. These influenza viruses he said occur naturally among birds.