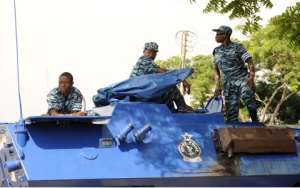 The impression is being created that our security services, particularly the police service, are piddling around when crimes are being committed in the country.
The kidnapping of the three girls has generated lots of commentaries in the media, and they appear to be pigged off as a result of the inability on the part of the police to apprehend the culprits.
The conclusion drawn from these commentaries point to one direction and that is the lethargic nature of the police.
To many Ghanaians, investigations into the kidnappings leading to the rescue of the girls and the nabbing of the criminals have been languid at best.
Parents of the kidnapped girls pinned their hopes on the ability of the police to rescue their children for them, but very little, according to them, has been done by the police in that department.
These distressed parents realized, along the line, that they had to pit their own arsenals against the kidnappers since the police offered no haven of hope.
They would circulate photographs of the girls in their immediate environment to see if information leading to their children being found would be forthcoming.
Days ran into weeks, weeks ran into months but nothing concrete came their way to offer them hope. Thanks to Joy FM, the matter has become very topical and the police seems to have been woken up from their slumber.
People with expertise in security matters have suggested that the police should have posted the photographs of the girls as soon as the matters were reported.
It must also be emphasized that the police, oftentimes, do not shrink from their duties. There have been several instances the police have prevented crimes from being committed and even if they get committed, they live up to task by fishing the culprits out.
Their handling of this case would not look like the very best, but we can encourage them to do better. They are capable of dealing with such cases if information is made available to them. Let's assist them to find these girls.