Celebrating Emergency Week: Ghana Post Engages Accra Regional Hospital Staff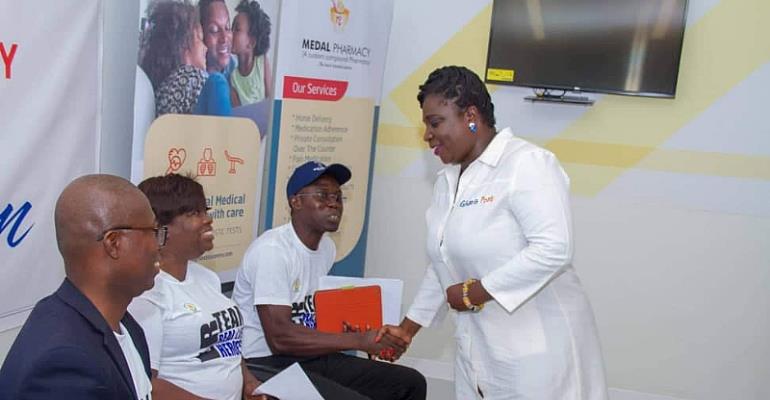 A delegation from the Ghana Post Company on Friday 30th November, 2018 engaged some officials and staff of the Emergency Department of the Greater Accra Regional Hospital as they marked the Emergency Week.
The emergency week is the first of its kind observed by the Greater Accra Regional Hospital.
The event was launched on Monday and climaxed on Friday 30th November to end the week long celebration.
The Ghana Post team used the opportunity to enlighten the hospital staff on the need to have a digital addresses for their home and work places.
Ghana Post was represented by the Corporate Communications Unit which included; Kobi Hemaa Osisiadan-Bekoe (Head of Corporate Communications), Richmond Acquah Arhin and Alimatu Sadia Abubakar both Corporate Communications officers.
Speaking to the team, the Head of Corporate Communications of Ghana Post, Kobi Hemaa Osisiadan-Bekoe indicated that as health workers it is very vital for the to be able to use extensively the GhanaPostGPS App.
She further explained that in times of emergencies, citizens are encouraged to give their digital address to the ambulance service operators, but it becomes unnecessary if the officers on duty cannot use the app to locate people in need
On the the occasion of the first ever Emergency Week Celebration, the Emergency Medicine Department of the Greater Accra Regional Hospital chose the the theme Highlighting Effective Emergency Medical Care in the Greater Accra Region, the country and beyond.
In an interview with Mrs Sarah Danquah, Head of Emergency Triage of the Hospital, she said it is sad to note that "Emergency Department Staff work extremely hard but are hardly appreciated, in Ghana however, the story is even worst. Until a patient dies, until a nurse or doctor turns a patient away, nobody not even the media will visit the department that save lives and interract with us."
The week long celebration started from 26th Nov to 30th Nov.The first ever unprecedented. On Monday 26th we launched the event with some media briefing
The staff of the Emergency Medicine Department within the week were trained on basic life support whiles the general public enjoyed free medical screening.
During all days, the newly inaugurated Emergency Ambulance was opened for inspection. This makes the training of the staff on GhanaPostGPS App timely.
The Ghana PostGPS App will speed up the time spent in locating a victim when Ambulance service is required
Participants were also made to realize the significance of the Ghana Post GPS App in terms of accuracy, reliability, convenience and user friendly.
Dr Afia Boateng - Head of Emergency Medicine Department of the Greater Accra Regional Hospital indicated that the extraordinary services the staff render daily in saving lives whiles reducing mortality and morbidity rate is highly commendable.
Among the key persons from the hospital were:
Mr Taadi - Administrator
Dr Emmanuel Sofrenyo - Director
DNS Agyare - Deputy Director of Nursing Service
Mr Tsiase - Head of Pharmacy
Mrs Sarah Danquah - Head/ Emergency Triage
Dr Afia Boateng - Head/ Emergency