Chief Of Staff, Hon Frema Opare, Thank You for Saving The Presidency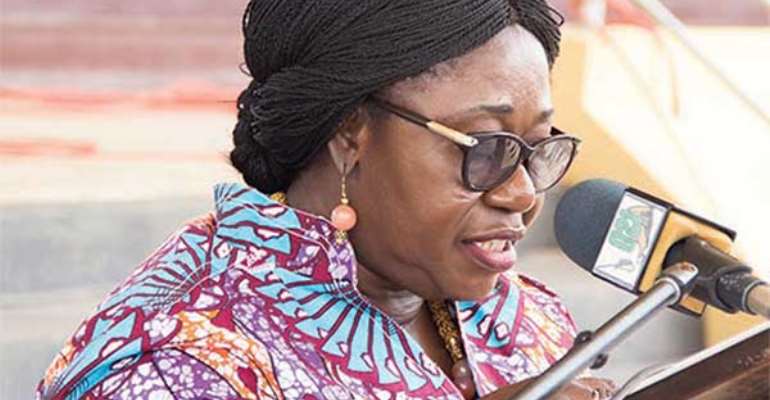 I am inclined to say that the Honourable Chief of Staff, Madam Akosua Frema Opare, has entered history through its widest doors not only as the first female to occupy this high office, but also as the iron lady, who stuck to a road map of redeeming the image of a Presidency, hitherto reduced to a place of gutter diabolism, incompetence, crass bigotry, massive fiscal manipulation, theft, and indecency of a rather extreme vile nature, more licentious and disgraceful. That was the seat of government under the control of thieves and liars like the alleged gangsters Stan Dogbe, Julius Deborah, Valerie Sawyer, Bawa Mugtari, Baba Kamara, Nunoo Mensah, Fiifi Kwertey, Ofosu Kwakye, and other national scammers quite well-known for their irascibility and funky chicanery. They had turned the Presidency into a funfair place of excessive parody, incompetence, and flatulent misconduct as was contagiously rampant during the incompetent regime of NDC and its associated bootlickers.
Under President Akufo-Addo, the Chief of Staff, Hon Akosua Frema Opare, does not have to make noise in order to carry out her duties with such exemplary aptitude. Why am I not surprised that the Brits refer to noise makers as "empty barrels"? Change has come in many colours, and the brightest of these colours is competence! Madam Chief of Staff will not capitulate to the demands of greedy people who want more when they are already privileged to be making a good income. She is not at post to squander the nation's money. Issues are brought to her attention regularly which she resolves with tact. Such is a daily routine, yet in Ghana, we have learnt not to appreciate competence, but rather celebrate buffoonery. Sometimes, I do not blame John Mahama for using the world "baloney", which most definitely applies to him, too!
She possesses sharp alacrity and precision of wisdom to be able to conjure the right strategy or solution to any issue at hand. What else is expected?
I hope people do not want to see her bouncing on a canvas ring punching the daylights out of every government appointee, whether deserved or not, because that is what some people imagine good governance to be. The way forward has been defined, and the target locked on and followed; NO RETREAT NO SURRENDER!!!
Wisdom and tact are two distinct traits of her Boss, His Excellency Nana Addo Dankwa Akufo-Addo that John Mahama and his warthogs in office did not have. He expects same from every appointee, and Madam Akosua Frema Opare has, certainly, followed his dictates to the detail, quite effectively and ceremoniously. So if anyone thinks that by being an empty barrel her ears will be disturbed, they can go on because only genuine concerns are listened to and worked on.
Never have we seen a Chief of Staff who gets more achieved with spending less. Some people are suffering grave frustration because her presence has curtailed their liberties to stroke their egos. They think that they can manipulate the system to serve their self-seeking desires, and eagerness to fund a newfound lifestyle of aggrandisement.
In other words she keeps all in check, holding the fort well for Ghanaians.
The President, His Excellency Nana Addo Dankwah Akufo-Addo, proved to Ghanaians that he just did not appoint anyone anyhow. Madam Akosua Frema Opare, quizzes everything and anything that comes to her attention, and everyone involved in the NPP government. I wish her long life, good health, wisdom, continuous sense of judgment, and ingenuity in discharging her duties.
#StillJohnMahamaIsTheIncompetentOne