14 End Kufuor Scholars Program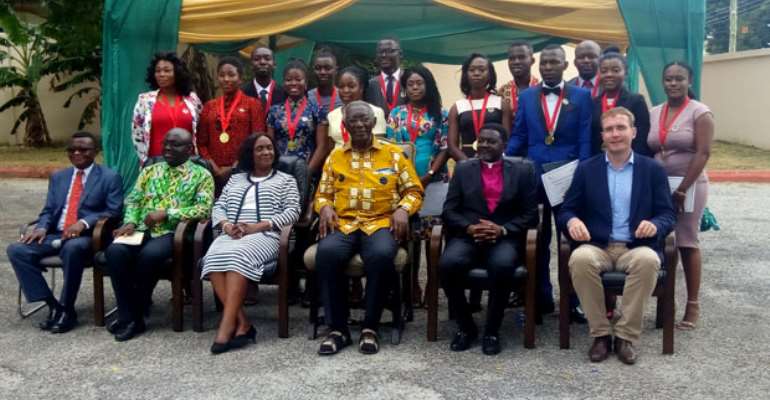 A TOTAL of 14 candidates have successfully completed leadership training module under the Kufuor Scholars Program (KSP).
KSP is an initiative of the John Agyekum Kufuor (JAK) Foundation which commenced about three years ago.
The 14 were inducted into the Foundation's Kufuor Scholars Program on February 2016.
They were over the past two and a half years coached, mentored by seasoned Ghanaian academics and senior management from business establishments in the country.
The graduands were also given opportunity to attend summer camps and mini camps in Atebubu and Accra and four others had the chance to travel to Tokyo in 2016 and Beijing in 2018.
Each of the 14 were presented with certificates and medals by former President Kufuor and former Chief Justice, Georgina Theodora Wood.
Speaking at the graduation ceremony on Monday, September 24, 2018, in Accra, Mr. Kufuor urged the graduands to respect authority irrespective of their achievements in life.
He charged them to always remember that there will be people who will count on them to live a decent life.
"Most people throughout the country and the continent are disadvantaged and should not be disappointed by the scholars," he emphasized.
He encouraged them to always strive for excellence and be passionate about giving back to society explaining that the essence of the program was to "quicken your attention" to society and mankind; reminding them that they have acquired the required skills to be successful leaders.
Her Ladyship Georgina Wood, in a keynote address, charged the graduands to embrace the virtues of integrity and honesty as they enter the world of work and leadership.
She told them that "a leader without integrity cannot succeed in leading and transforming society."
She highlighted on gross injustices in Ghana and across the world and challenged the scholars to make impacts in ending such injustices.
According to her, the world has become "hotter," intolerant and full of selfishness.
She explained how those wealthy around the world are increasingly becoming unwilling to share with those in need and that even in cases where they try to share, they end up worsening the plight of the less privileged, lamenting that material dividends of democracy continues to be elusive.
The former Chief Justice therefore persuaded the graduands to push themselves to be successful outside the corridors of the Foundation and be of help to their societies.
The graduands promised to "mirror" Mr. Kufuor anywhere they find themselves.
They in appreciation of the training donated GH¢ 7,000 to the Foundation to support its activities.
In addition to the donation made to the Foundation, some of them have started taking up community support programs.
BY Melvin Tarlue