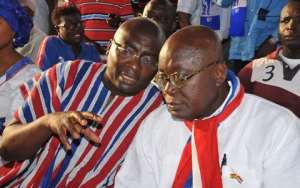 The country's meagre resources under the watch of President Nana Akufo Addo have consistently been suffering plunder through corruption, plain thievery, extortion contrary to promises made in opposition to protect same.
The plundering of the resources by the Akufo Addo/ Dr Bawumia government have become so endemic – a daily occurrence to the extent of earning the government a non-enviable tag of "One Day One Corruption," 1D 1C, or "One Day One Fleece."
President Akufo Addo and his government had been overwhelmingly rated as corrupt in a poll conducted by myjoyonline.com. Over 80% of the people who voted declared the Akufo Addo/Dr Bawumia government as such.
Former Moderator of the Presbyterian Church, Professor Emmanuel Martey said he is convinced about the existence of corrupt appointees in the Akufo Addo/Dr Bawumia government.
"…and we all know that the present government, NPP; there are corrupt appointees," he said in an address of congregants in Koforidua.
An example of the fleecing and corruption filled activities was when the cost of developing a simple website was inflated to the tune of Gh800, 000 [$180,000], 1600 % more of the cost which took the Minority in Parliament to expose.
Another example was the worry expressed by NPP firebrand and Member of Parliament [MP] for Assin North Constituency, Kennedy Agyapong, that Ghana's presidency charges any investor or business person $20,000 before being granted access to the President.
Other examples have to do with the unimaginable $1.37 billion AMERI Novation and Amendment agreement, $1.25 billion Ghana Card project, extortion of Gh6, 000 per truck from timber dealers for which Brong Ahafo Region wood dealers held a press conference to protest, accusing their Regional Minister as the one behind it as well as the 25% contract kickback demand from contractors etc.
Below is a list of only 10 fleecy and corruption related activities of the Akufo Addo/Dr Bawumia
| | | | |
| --- | --- | --- | --- |
| PROJECT | NDC COST | NPP COST | % DIFFERENCE |
| NIA/ GHANA CARD | $115 MILLION | $1.25 BILLION | Over 1000% |
| AMERI ENERGY PLANT | $510 MILLION | $1.37 BILLION | Over 100% |
| PRESIDENT ACCESS FEE | FREE | $20,000 PER INVESTOR | UNQUANTIFIABLE |
| A SIMPLE WEBSITE | Gh5000 | GH800,000 [$180,000] | 1600% |
| BOREHOLE | GH60,000.00 | GH132,000 | Over 100% |
| 6-UNIT CLASSROOM BLOCK | GH450,000.00 | GH770,000.00 | Over 60% |
| GHANAPOST GPS | FREE [ASAASE GPS] | $2.5 MILLION | |
| MOBILE MONEY INTEROPERABILITY | FREE | $400 MILLION | |
| CONTRACT KICK BACK | - | 25% [CASH DOWN] | |
| EXTORTION FROM WOOD DEALERS | - | GH6,000 PER TRUCK | |