WordDigest: Why Jesus Christ Revealed?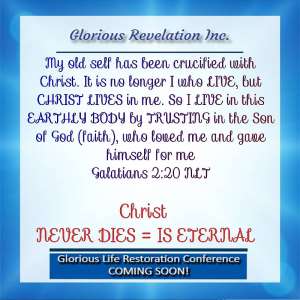 "John, the seven churches which are in Asia: Grace to you and peace from Him who is and who was and who is to come, and from the seven Spirits who are before His throne, and from Jesus Christ, the faithful witness, the firstborn from the dead, and the ruler over the kings of the earth. To Him who loved us and washed us from our sins in His own blood"
[Revelation 1:4-5]
NKJV
Jesus Christ was revealed to rule over the world.
His coming from the third heavens to the earth was to die on the cross for us to be saved.
Jesus Christ was revealed for;
1. The salvation of world through His death on the cross.
2. Forgiveness of sin via His blood shared on the cross.
3. The gift of the holy spirit for His works.
4. Restoration of hope for the lost.
5. Redemption of His people in captivity.
Jesus Christ was revealed for us to have a constant fellowship with God through the Holy Spirit.
God can save you from your difficulty if you believe in Christ Jesus through the Holy Spirit.
Jesus Christ will surely come again to pronounce judgement on the world.
His second coming is rest assured.
Repent.
Prayer
Father in heaven, we give you praise for the gift of your Son Christ Jesus to the world, Amen.
Follow me on https://m.facebook.com/TheWordDigest to like the page
#WordDigest
#Inspiringthegeneration