I am fair-minded: Bagbin appeals to NDC delegates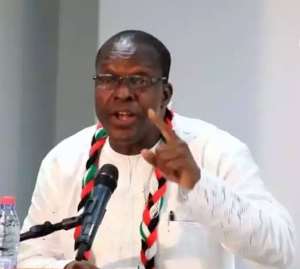 "Fairness is one of my values in life. In paradigms of social democracy we do not discriminate. I only pray that delegates give me their mandate to deliver the golden eggs for our beloved party," says; Bagbin, in his campaign build up to the NDC presidential primaries.
But, when asked, he said "it does not make sense for the party to invest in former president John Mahama with only four years constitutional mandate to stay in power and by the time the party will be marketing another candidate to take over, it might have needlessly lose power again."
On the other hand; Bagbin—given the mandate by delegates and subsequently by the majority Ghanaian—has eight years intact to stay in power as president of the country.
He said lots of issues came up—among them; bias and unfair treatment of some executive members of the party including himself— as contributing factors to the party's embarrassing defeat in the 2016 elections. "We cannot forget so soon how some ardent party members and executive were maltreated by Mahama's boys—how can we forget," Bagbin demanded.
He said he was not a wicked person and already he has deep respect for rank-and-file of the party, working in harmony with the party structures, and he would continue to do so even more to ensure there was no grassroots disconnect.
He said—with his natural inclination to respect for humanity and rank-and-file of the party—he was sure the party would work as a unit-of-force to wrestle power from the hands of the ruling NPP government.
"As for me every executive member counts and every member of the party matters to me. I feel for every member of the party, especially in these times of economic hardship in the country."
When questioned, Bagbin said it was "wrong and bias" for anyone to box the Upper West, Upper East and Northern Regions together as one and based on that to think that the areas had had their turn with the former president John Mahama, and "in any case, if the three regions were considered as a homogeneous unit what about regions in the South?"
He said the South had produced about eight presidents of the country vis-à-vis only two from the three regions of the North. In any case, "I will be president for all and push development to every region. I will do that fairly."