10 Reasons Why Dr. Bawumia Is Not Credible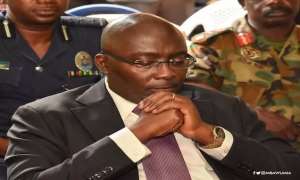 Vice President Bawumia
1) Has Dr Bawumia presented the remaining 90% of the so-called Togolese voters list? *No*
2) Is it true that the 419 GPS which Dr Bawumia bought for Ghana which costed in excess of $2.5M and advertised at a cost of ghc3.5m could have been procured for less than $500K? *Yes*.
3) Is it true that the 419 GPS is a better advancement in technology as compared to US, UK etc as Dr Bawumia claimed? *NO*
4) Is it true that Dr Bawumia said that there a so-called missing gh7bn from state coffers after the handing from the previous government to npp which turned out to be palpable false? *Yes*.
5) Did Dr Bawumia peddle falsehood at the Supreme Court in 2012 about electoral fraud, padding of votes, rigging and when he was pushed for evidence, his response was that "You and I were not there"? *Yes*
6). Did Dr Bawumia tell the good people of Ghana e.g Bunkpurugu, Kasoa etc in 2016 that if NPP wins the 2016 December elections (which they won) that starting from 2017 without fail, that each constituency will receive a cedi equivalent of $1m. *Yes he did* .
And did any constituency in the whole country receive ghc1 in 2017? *No*
7). Did Dr Bawumia give about 3 different *deadlines* for the commencement of GHana Card registration nationwide which never materialized? *Yes*
8) Did Dr Bawumia peddle falsehood that he was also issued with the Ghana Card apart from President Akufo Addo which the NHIA authorities later denied publicly ? *Yes NHIA did*
9) Did Dr Bawumia claim that the implementation of the paperless clearing system at the Ports brought an increase in revenue of about 56% which was later refuted or dismissed by the Executive Secretary of the Ghana Importers and Exporters Association Mr Samson Assaki Awingobit? *Yes*
10) Did Dr Bawumia tell Ghanaians in opposition that as a former Deputy Governor of BoG, that Ghana didn't need to borrow money from external sources, that Ghana has all the resources needed for our development but for alleged corruption and mismanagement , which was why ndc government was borrowing. And that given the opportunity, that npp was going to do things differently. And yet the same npp is now on borrowing sprees and touts that as a mark of competence? *Yes he did*
Can Dr Bawumia be trusted on his words?
Make your own judgment.
Baba Musah
[email protected]