An Open Letter To The President of Ghana Nana Akufo-Addo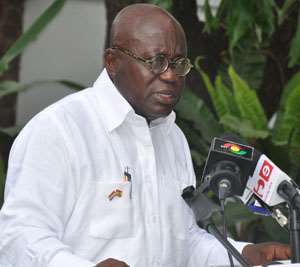 Dear President Akufo-Addo,
You have expressed your desire to split Western Region into two, which we have no objection. However, in your attempt to do so you have decided to split Wassa into two. This idea to split Wassa is my concern as a Wassa myself. I think, not much thought was given to that idea. Simply because you cannot and must not divide any tribe. Honestly, I am even astonished that such idea came to your mind. It still baffles me. You are preserving the unity and sovereignty of your tribe, Akyem, while maneuvering to divide Wassa, all in the name of economic development.
This is a borrowed colonial policy from the books of the Europeans where they divided Africa with no regards to African tribes' unity or sovereignty. If you suggest to Akyem people that you intend to split Eastern into two by dividing Akyem into two in the name of development. The answer will be swift, no. So, divide Akyem first before you split other tribes. Ghana is not a kingdom and as such you are not a king. It is not the duty of a government to split tribes, install and dethrone kings or chiefs. Your duties, Mr. President, relate to politics, economics and security. What will you feel if another government comes and divides Akyem Abuakwa into two using your precedent? Surely, your act or decision will serve as a guide or justification for subsequent situation. I do not think you have grasped the repercussions of what you intend to do. I will suggest you abolish the tribal systems in Ghana, since you have the power or authority to split Wassa into two. You cannot use political processes to split a tribe. That is not your duty.
Let us analyse the area size of the proposed split of Western Region. Sefwi-Aowin-Suaman (SAS) Region if created (with Wassa Amenfi) will cover 15,239 square kilometres, while the rest of Western Region, that is, Wassa Fiase-Wassa Mpohor-Nzima-Ahanta (including Shama) Region will be 9,054 square kilometres which will be less than the area size of Central Region or Ahafo Region (to be created). However, if Wassa Amenfi is left out, SAS Region alone will cover 10,252 square kilometres and the rest of Western Region will cover 14,041 square kilometres. SAS Region alone will be greater than Central Region or Ahafo Region (to be created). SAS Region alone is big enough to be a region. Therefore, Mr. President, why are you eager to add Wassa Amenfi to SAS Region. It is obvious you have a hidden agenda? Table below summarises the above analysis.
Area Size of the Proposed Split of Western Region
| | | |
| --- | --- | --- |
| | With Wassa Amenfi | Without Wassa Amenfi |
| SAS Region | 15,239 square kilometres | 10,252 square kilometres |
| The Rest of Western Region | 14,041 square kilometres | 9,054 square kilometres |
Mr. President your policy seemingly suggests that you have some historical issues with Wassa as whole or Wassa Amenfi in particular? Historical issues look more likely the reason/s for your policy because splitting Wassa has no economic basis and it is traditionally uncalled for and unacceptable. I am an economist, and no one has given any economic reasons for the split because there is none. Should Wassa be split into two in order for government to fix Wassa Amenfi deplorable roads? Absolutely not. Sefwi have bauxite but Wassa Amenfi have no smelter. Even if we have a smelter, Mr. President, remember that Ghana do not have a federal system of government. Every revenue or money that is obtained from any part of Ghana goes to the Central Government. So why should Wassa be divided for economic purposes? Mr. President, your idea of splitting Wassa is crafted to humiliate Wassa people. It is obvious (from this policy) that certain policy decisions in Ghana (and Africa as whole) are manipulated either to humiliate or demonstrate one's power or authority. This demonstrates why we are still in our economic doldrums. A policy like this indicates why there are so many conflicts in Africa, people dehumanizing their fellow human beings for fun, while policy-makers and their cronies enjoy their country's money and wealth. Catastrophe awaits us due to implementation of some atrocious policies by governments in Africa.
In the good old days where morality reigned and God-fearing a cornerstone, the chairman of the Commission of Inquiry, Justice S.A. Brobbey, a retired Supreme Court Judge and his Commission would advise the government not to split a tribe for economic or political purposes and if the government refused they would say we quit. They would not even go to the area for any consultation to deliver their verdict. Therefore, Justice Brobbey, why do you think dividing Wassa is of national interest? Would you like that to happen to your tribe? Of course not, but to you and your Commission it is good for Wassa. The process itself is flawed. Justice Brobbey and his Commission go to Wassa Akropong and spend say some hours or one day or two days at most, then they conclude that they have every opinion in Wassa Amenfi. It's laughable. Why is the Commission making such a flawed process authentic? Can we simply employ such a questionable method to generate a good policy for the nation? Absolutely not. Do I blame Justice Brobbey and his Commission? Partially. Simply because they should have examined the proposal very critically in the case of splitting Wassa tribe into two. I am astonished they went along with it.
Also culpable in this matter are the Kings of Sefwi, Aowin and Suaman Traditional Areas. It's a pity that they agreed to such an ill-thought proposal, indicating that it was appropriate to split Wassa tribe into two. They have committed traditional abomination. Are their tribes divided? No. Due to their actions to undermine Wassa Amenfi (and Wassa as a whole), I am beginning to think that some of their subjects may be encroaching on Wassa Amenfi's land. If that is true, that will be unfortunate because the culprits will be dealt with severely. No one, no one will take Wassa for granted.
The reason why Sefwi want Wassa Amenfi to join them is that over 35% of the cocoa they claim to come from Sefwi comes from the Northern part of Amenfi Central district. This is happening because of the deplorable roads within the Northern part of Amenfi Central district. We know that Kwamena Ahwoi engineered Wassa Amenfi's addition. Simply because they will be exposed if Wassa Amenfi is not added to SAS region. They always use cocoa production as their economic bargaining chip for developments in Sefwi.
One thing must be very clear to those who think they can use their political positions or influence to subdue Wassa people; the division of Wassa Traditional Area will not be allowed to happen. We will use any means at our disposal to protect and preserve Wassa unity and sovereignty. You yourself know, Mr. President, that we will be foolish to allow you to split Wassa tribe into two. You are Akan and I am Akan, so you know it and I know it.
Amenfi Central District, my district, is very big. It was identified to be divided into two districts during Mahama's reign but strangely it did not happen, while others happened. Business as usual and politics at its best. If you want to help Wassa Amenfi as you claim, then fix our bad roads and split Amenfi Central district into two, but do not split Wassa. Regarding the tribes in Western Region, Wassa is the largest contributor to the Ghanaian economy.
Finally, always remember this verse from the Bible: "Do unto others what you want others to do to you". If you want to be a responsible president you should be mindful of the way you treat other tribes. You should not use economics or politics to split any tribe in Ghana. Also remember in Africa every tribe is a nation. The Catholic Church have made Sefwi-Aowin-Suaman (SAS) a diocese make it a region and leave Wassa alone.
I intend to submit a copy to the King of Akyim Abuakwa Traditional Area, National House of Chiefs, Justice S.A. Brobbey, the Catholic Church of Ghana, the Media and if possible the rest of the Akan kings.
Thank you and God bless Ghana
Kofi Adjei-Frimpong, PhD