Selling The Best Cocoa For Less: History Predicts Doom For Silent Suffering Farmers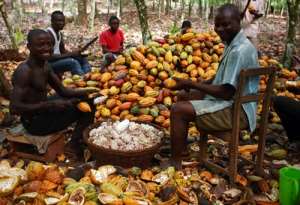 I have received mixed responses and interesting questions since the publication of what I consider the first of my 'series on cocoa prices and suffering farmers', in the article: "Where is Price in the Framework of Action to End Deforestation in Cocoa?" While many in the trading rooms and those with years of experience in the industry tell me they are used to this apparent cycle of price fluctuations, they were arguably deeply saddened by the extent and depth of the current market fall. According to the ICCO, the cocoa market experiences five years of production surplus and five years of production deficit but the current surplus and its accompanying price fall is unprecedented. The most surprising of all responses received came from farmers who wanted to know which of their partners in the global trade is profiting from the historic low prices of cocoa, and at their expense?
A little delving into the past reveals that, in the last two decades, all the major chocolate companies have made claims of working harder to help cocoa farmers on understanding the benefits of sustainability and becoming more resilient. Despite these claims, the anguish of the silent suffering farmer is the deepest. My cousin sums it up succinctly; "if we are not careful, someday all our vegetation and forests will become cocoa farms and it will still not suffice to take our farmers and country out of poverty". I have promised all my generous followers and farmers that I will attempt to find answers to some of their questions and concerns and share them in my next series which I have pledged to keep alive during this Lenten Season , and which I dedicate to all cocoa farmers.
My bewildered cousin still wonders why Ghana continues to sell its premium cocoa for less. Why can't Ghana and Ivory Coast store their beans upcountry to create the much needed demand for the commodity? This is simple economics" she exclaims! Why are cocoa origin countries complaining, instead of fixing the structure of the trade, she laments? I calmly assured her of a famous quote that is attributed to writer and philosopher George Santayana, and in its original form it reads: "Those who cannot remember the past are condemned to repeat it." According to Santayana's philosophy, history repeats itself.. (no need re-inventing the wheel) This phrase is quite a big one, not only because it is common, but also because of its truth and its history, driven by human nature, is dreadful, then this saying ought to guide our public and private policy in the cocoa sector.
My cousin was similarly thrown aback to discover the history of the cocoa trade. As far back as 1924, history has it that Cocoa farmers were obliged to accept whatever price the overseas merchants decided the true worth of raw cocoa. And no matter how little that was, the Government creamed off a chunk of them. The farmers regarded this situation as unsatisfactory and sad that in that year, they embarked on the first of several cocoa "holdups", during which they refused to sell to the cocoa merchants. Many farmers underwent the traumatic experience of having to burn their cocoa beans because they had been stored for so long that they had become moldy and thereby not fit for purpose.
According to history, despite the futility and humiliation which characterized the 1924 boycott, the farmers felt so cheated that they embarked on another boycott in the crop season of 1930-1931. And once more in 1937-38 crop season. That was the period when the idea that cocoa might be a "curse" to Ghana began to gain grounds. But all these boycotts failed to move the cocoa merchants. So, one wonders if history is not repeating itself in the 21st century? In my last article, I pointed to the Ghana example that showed that Cocoa, like any other agricultural commodity, is a renewable resource, so, when the cocoa price goes up, farmers will be incentivized to produce more cocoa beans by increasing their use of inputs and investing in efficient and productive practices.
"Will the traders listen to the voices of our farmers and intervene?" She asked. Nevertheless, this historical antecedent is comparable to what humorist and writer Mark Twain famously said on the matter: "History doesn't repeat itself, but it does rhyme." The situation of the 20's and 30's is comparable to the period of agricultural crisis during the closing years of World War II, when coffee and cocoa prices fell and officials burned the harvest and many of the trees. It is recounted that at the time, the elders in most cocoa growing communities had a common response to the crisis: poverty, child labour, deforestation, and loss of dignity as human beings.
The large drop in global cocoa prices is undeniably hurting farmers , leading some to abandon their plantations. It is a common perception that Cocoa production responds to changing prices yet all well-meaning persons are urging producing countries to continue production and I agree that it will be dangerous for Africa's economy for cocoa production to be abandoned due to falling prices. What then becomes the responsibility of the trade in cushioning the farmers? Ninety percent of the world's cocoa is produced by five million small-producer farmers in West Africa, Latin America, and Asia. These farmers get minimal pay, with most cocoa farmers globally living on less than $2 per day. Farmer poverty is widespread, in a global family that is worth over $100 billion. Civil society is equally concerned that this price glut will undermine sustainability efforts. The International Cocoa Initiative (ICI) has warned that the drop in global cocoa prices threatens to undermine efforts to stamp out child labor in Ghana and the Ivory Coast, as falling incomes could force farmers to put their children to work on the farms. "If these low prices translate into lower incomes for poor families, and household poverty gets worse, we are worried that the risk of child labor will increase," Nick Weatherill, executive director of ICI is quoted to have said to the Reuters. When activists met to mark the World Day Against Child Labor, Ruth Dearnley, Chief Executive Officer of Stop The Traffik, is quoted to have said that " The drop in prices does create greater vulnerability ... [due to] further demand in an already strained landscape," Unfortunately, history has it that all these pleas will be overlooked and prices will plummet further , unless the industry rise above itself, live its FARMER FIRST approach and prove history wrong. I want to believe that the industry will not let its claim of $70 million investment in ICI go down the drain.
Now headquartered in Abidjan, one wonders what the ICCO can also do for its largest constituents? What readily comes to mind is the ICCO press release in London on 21 November 2014 where it noted numerous press reports identifying potential deficits in the supply of cocoa in the years to come, possibly reaching a level of one million tonnes in the year 2020. One wonders what happened to the ICCO reports in 2015 about the boom with growing demand, particularly in the new markets of China and India? It was partly this prediction which pushed farmers to produce a surplus of 400,000 tons of cocoa annual supply in 2016 and 2017. Farmers obviously did their part to ensure sustainable supply. It is up to the industry to reassure the farmers by reversing the status quo. Farmers are giving up on cocoa and switching to other more lucrative, crops like rubber and oil palm. The average age of a cocoa farmer in West Africa is 51years—which means the children of farmers are abandoning the crop. Unless we begin to pay more for the beans used in producing the chocolate bar, we will unfortunately be feeding the problem that could collapse the chocolate business. When I last checked the news, I found out that "Farmers in the Western Region of Ghana say it is sweet to surrender their farms to 'big-money' buyers interested in exploiting it for gold. " It makes economic sense to sell our lands for galamsey " is what a cocoa farmer said in a banner headline story. Quite recently, Cocoa Abrabopa Association acknowledged that Illegal mining remains the biggest challenge confronting cocoa farmers in their bid to increase production of the country's leading cash crop.
These all sounded like complaints to my cousin. She insisted on homegrown solutions and understanding why Ghana continues to sell its premium cocoa for less. If the 5-year price fluctuation is common knowledge in the industry, then isn't COCOBOD sleeping every 5-years and only waking up to complain when prices are falling? Must we have flooded the market with beans in abundance and driven down prices to the detriment of our economies and farmers, if we were not sleeping on our jobs? It will be unfair to put the blame at the doorstep of its new CEO . However, we should change the law governing appointment and terms of CEO's of COCOBOD. We should ensure the stability and security of the tenure of the CEO to prevent the situation where such officers and their positions are always threatened with political interference with regards to their removal from office because of changes in government. With the curtailment of appointments due to political change, the situation affects our ability to drive change in the sector. If you have a Board that has seen four different CEOs in only a decade, you will not be surprised to see the inconsistency in our approach to addressing major challenges in the sector, including price. Can we not have a CEO with a performance-based five-year renewable term?
Thanks to the leadership of the two countries and our two COCOBODs, Ivory Coast and Ghana have been planning to create a buffer stock of beans with the aim of exerting more influence over world prices. I hope we accomplish this political decision and back it with resources to achieve it. It should not take us more than a year to install the specialized warehouses to allow us to conserve cocoa so that we can regulate supply and push up prices for 2018/19 crop. If it even requires that we reinstate a clause creating a buffer stock in the ICCO agreement, we should be in a hurry, quicken our steps and negotiate it with the ICCO. Posterity will judge us fairly, so, we need to be inspired by Hermann Göring's quote: "We will go down in history either as the world's greatest statesmen or its worst villains."
But if we would be successful, we need to overcome the biggest concern about how to boost local consumption of cocoa and create worth in the country. I will attempt to explore this topic further in my next reflection. I know that last year, Indonesia, the world's third largest producer of cocoa, estimated to consume 99,000 tons of chocolate, establishing a domestic market worth USD 1.13 billion. Originally a raw cocoa exporter, the development of the cocoa processing industry and increasing domestic consumption are turning Indonesia into a net importer of cocoa and its products thereof. What are the lessons for Ghana and the Ivory Coast? How can our governments step up efforts to encourage local cocoa processing and consumption, and how would that pay off? How can you and I act locally to influence the global price for cocoa? Make a date with me and let us explore these further in my next series.
To be continued…
Christian Mensah, Cocoa Sustainability Expert ( [email protected] )