Oxford Business 'Re-Defines' The African Consumer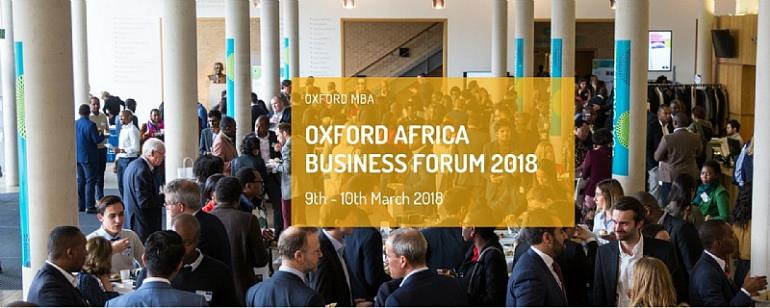 From the 9th to 10th of March 2018, Oxford University's Said Business School opened their business doors to patrons who sought knowledge on how to do business in the African continent.
Sponsored by Bank of America Merrill Lynch, the 2018 theme for the Oxford Business Forum Africa is (Re) defining the African Consumer.
Barati Mahloele, MBA candidate for the year 2017/2018 and Co-Chair of Oxford Business Network Africa in Said Business School, University of Oxford and Yetunde Dada head of communication, explained the reasons why Africa is beaming with several business plans and opportunities.
In her explanations, Barati confirms this year's event as strategic in terms of their choice of theme saying: "We have an annual Oxford business Forum Africa with three main pointers.
"And this year, the topic of re-defining the African consumer came about due to the three main positive indicators that come out of the continent.
"This includes the continuing rise of income, the emergence of the African middle class, as well as the fact that Africa has the fastest growing youth population".
Resting their belief on the above mentioned pointers as the key conduits to economic development on the continent of Africa she said: "However, there has been some opposing argument or narrative that, the continent's consumer opportunity is overstated and very fragmented".
There is an arguable inhibition that Africa does not have an inter-continental trade, as well as the lack of infrastructure which militates against potential foreign investors.
As to what can be done to amend this situation Barati said: "So what we are looking to do this year is to essentially, de-construct these opposing narrative.
"We want to analyse what the size of the price is from a consumer's perspective on the continent. And also deliver actionable insight to cease this opportunity.
"And we believe by doing all of that, we will essentially be re-defining what the Africa consumer is."
Whether scientifically proven or thoroughly researched, there are so many assertions and narratives that stigmatise the establishing of businesses in Africa as a continent, but Barati opines differently.
"Yes, that is unfortunately a negative narrative, but we in Oxford Business Network for Africa believe that, it comes from a place of not knowing and that is why we are providing the platform to provide that knowledge.
"This is the reason why we have chosen great panellists and keynote speakers as well as business leaders with the broadest knowledge within Africa and the Diaspora as far as business in Africa is concerned.
"And by doing this, we will be able to bridge that knowledge gap by showing people that the opportunities that abound in Africa is overwhelming".
Buttressing this further by adding to the reasons why people should choose Africa as a business continent, Yetunde Dada, the head of communication for Oxford Business Network Africa said that : "There are different ways of doing business, so those who think there are no opportunities in Africa, I will say, there are more opportunities so come and be part of the forum".
The Oxford Business Forum Africa brings together distinguished leaders from top companies, innovative start-ups, government, and civil society from across Africa with thought leaders, students, and alumni from Oxford University to discuss business in Africa.
The Oxford Business Network for Africa is a student led group created to organise and channel the substantial interest in business in Africa amongst Oxford students, alumni and faculty.