Jubel Kwaw, Incoming NPP Youth Organizer For Prestea Huni-Valley To Set Up Polling Station Welfare Fund With Ghc 40,000.00 Ready!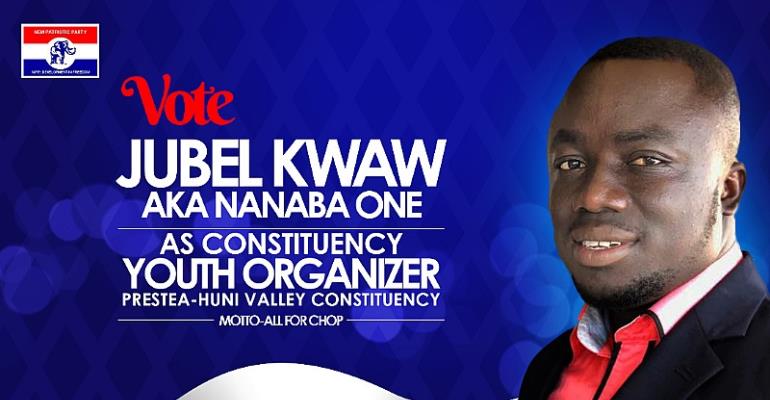 The NPP Constituency Elections campaign in the Prestea Huni-Valley District of the Western Region has this time around proved to be one of the hottest, with many candidates coming up with fantastic grassroots building ideas for the party.
The incoming youth organizer, Jubel Kwaw (Nanaba One), a BA Geography and Rural Development graduate from KNUST and a son of the influential divisional Chief of Mease-Nsuta traditional area coming out with an idea of setting up "polling station welfare fund".
Addressing delegates of Krutown Electoral Area in Prestea, Jubel Kwaw, whose slogan "obia bedidi" has been embraced by party members, "placed GHc 40,000.00 on the table" as the seed money to kick-start the account should he be voted for as the Youth Organizer.
He said, this idea was borrowed from his uncle, who is the MP for Tarkwa Nsuaem, Hon. Mireku Duker, and the amount he is showing to the delegates will be used for the start of that "welfare fund should delegates vote for him, as their next organizer.
He narrated several sad stories where party foot-soldiers have toiled so much to bring the party to power, and when they are in distress, the party executives are unable to help them. He said, the welfare fund will be handled by the polling station executives in each electoral area, and will launch it if he gets the nod. He added, he will contact other prominent people to donate to the fund so as to ensure its growth.
Jubel Kwaw reiterated that "elections are won at the polling station", hence the welfare of polling station executives and members are so dear to his hear.
Present at the meeting was Hon. Emmanuel Enoor Kwesi Arthur, the Assembly Member for Krutown and also contesting as second Vice Chairman of the NPP in Prestea Huni-Valley.
The delegates of Krutown Electoral Area expressed profuse thanks to Jubel Kwaw, for thinking about polling station executives and members and pledged to support him to win as the next Youth Organizer for the Prestea Huni-Valley Constituency.
The elections have been re-scheduled to take place on Tuesday, 27th February 2018 at Golden Hotel in Bogoso in the Prestea Huni-Valley District.
# Filed by Political Desk of Prestea Communicators for Development (PCD)( 23/02/2018)
SIGNED.
COMRADE FRANCIS ESHUN
PRESIDENT
0203961833
JAMES SAMUEL ACKERSON
VICE PRESIDENT
0241163129