NPP's Kusi Boafo And Kessben TV's Omanhene, Blatant Liars With No Shame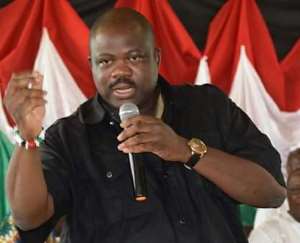 The Deputy National Organizer of the NDC, Joshua Hamidu Akamba has described as blatant lies, claims by NPPs Thomas Kusi Boafo that Former President John Dramani Mahama and past appointees of his government, sold 376 state vehicles.
Thomas Kusi Boafo, CEO of Public Sector Reforms, in a programme with Kessben Tv's Morning show host, Omanhene allerged that Former President Mahama and the Former Chief of Staff under the erstwhile Mahama government, sold over 376 state vehicles to themselves, friends, families and other relations at cheap prices.
These claims, he said supported the report of the committee that was set up by President Akuffo Addo to investigate and retrieve all stolen state vehicles.
But the Deputy National Organizer of the NDC Joshua Hamidu Akamba, has described these claims by Kusi Boafo as blatant lies, peddled without shame.
He further in a statement, dared Kusi Boafo to release the documents to Back His claims, sue the suspects or meet him in court to justify the lies he peddled with Omanhene on Kessben TV just to tarnish the hard earned reputation of Individuals in the NDC.
Statement Below
"I have noted with grave concern, blatant lies peddled by Thomas Kusi Boafo, a supposed CEO of Public Sector Reforms about former President John Dramani Mahama and officials of the NDC, in a video that has that has gone viral on social media.
I must admit that I'm not surprised that the said event took place on Kessben TV and with one of the most irresponsible morning show hosts in the country but I thought that a year after a task force was set up by President Akuffo Addo to witch-hunt NDC Officials and Former Government Appointees in the name of retrieving "stolen state vehicles", Kusi Boafo would update us on the number of NDC members they have been able to prosecute or arranged before court for the said offense.
I am challenging Kusi Boafo to sue these supposed NDC Officials he claims sold 376 state vehicles under President Mahama or else face us in court to prove these frivolous allegations with Kessben TV.
But for irresponsible journalism on the part of Omanhene of Kessben TV, how could Kusi Boafo get a platform to peddle such blatant lies?
The most appalling aspect of all these, is that they peddle these lies with lots of courage and seriousness.
If Kusi Boafo and his NPP's intention is to use journalists who doesn't know their job and Kessben TV to sent the hard earn reputation of individuals in the NDC, then must be prepared to defend their allegations in court."