Ahead Of NPP Delegates Conference; General Secretary Hopeful Supports Women Organisers At Venue Grounds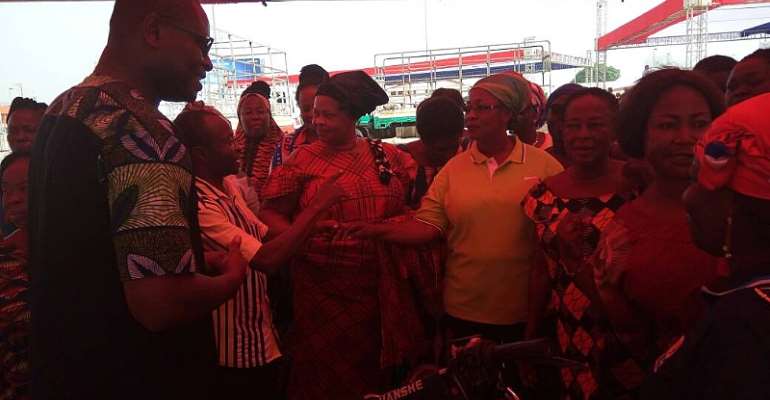 The NPP's General Secretary Hopeful, Richard Ahiagbah this afternoon, has visited the Conference ground to assist in preparation of the venue ahead of the 2017 National Delegates Conference which has been scheduled for Sunday December 17.
The visit, at the same time saw over 200 party officials and regional executives of the New Patriotic Party (NPP), at the Baba Yara Sports Stadium on Saturday to inspect the area for the upcoming extraordinary national delegates conference which will consider various proposed amendments to the party's Constitution.
The Aspiring General Secretary received a rousing welcome from the women organisers, other executives and party members lining up to say hello to Mr. Ahiagbah and to find out the reason for his visit.
While the party executives and members took extra time to speak with those who wanted a small piece of his attention, Richard Ahiagbah was there to assist the women to partake in the cleaning up and setting up the venue for the conference.
According to the General Secretary Hopeful, he was very impressed with both the new and planned facilities made available for the conference.
Mr. Ahiagbah congratulated the women at the venue, especially the Ashanti Regional Women's Organiser for mobilizing and supervising the youth, constituency executives and party faithfuls to warm-up the place ahead of the big day.
He further commended their hard work and commitment towards the party and continued support for the NPP government.
The Aspiring General Secretary offically asked these submissive women for their support to become the next General Secretary and also be able to implement his vision of improving party's Infrastructural Development and grassroots service.
He, therefore, promised the women his election will occasion a new era of service focused on the grassroots, the heart and soul of the NPP.
On the empowerment of women, Mr. Ahiagbah said, he would implement both women and youth development, as well as leadership to increase their active participation in the party and in government.
This upcoming event to be held in Kumasi is a follow up to the Annual National Delegates Conference in August this year at which various proposals were made for amendments to the party's constitution.
Available Facilities
An asphalt surface has been installed at the conference ground which can be used as an additional carpark and also for the siting of party executives tent, toilet trucks, ice recovery tents and other temporary facilities during events.
The preparation also features an accessible bus and taxi terminus on the venue to improve traffic flow to and from the venue, as well as pathways connecting the venue entry and exit gates that will make it safer for pedestrians and people with limited mobility.