Jirapa Water Situation To See Improvement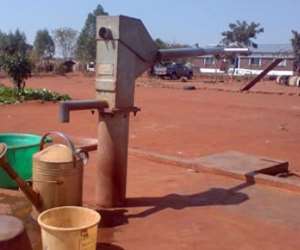 Dr. Godfred Bacheyie together with his team of Windsor Rotarians have pledged to support to improve and expand the Jirapa town water system to address the current water challenges facing residents.
In this regard, the District Assembly is seeking technical assistance from the Community Water and Sanitation Agency (CWSA) of which tremendous progress had been made to make the project a reality and help alleviate the impact of the water crisis on residents.
Madam Christine Bonbanye-Amadu, Jirapa District Chief Executive (DCE) made this known during the Town Hall Meeting in Jirapa in the Upper West Region.
She reminded the people of the launch of the National Sanitation Day on November 13, by the President alongside the announcement of a National Sanitation Brigade to enforce sanitation laws nationwide and called on all to rise-up to the challenge and help make a difference in the area of sanitation in the district and the country at large.
She explained that the Town Hall Meeting had a unique goal of disseminating government programmes, projects and policies to the people as well as interacting with major stakeholders and the people to solicit feedback for government.
She said the Free Senior High School (SHS) and the Planting for Food Jobs (PFJs) were being implemented well in the district despite a few hiccups especially with the Free SHS, and hoped that moving forward those challenges would be adequately addressed to aid the smooth running of the policy.
The DCE said under the PFJs programme, there were still lots of excess fertilizer in the district and hoped that the One-Dam-One-Village policy would come to further boost agriculture in the district.
Madam Bombanye-Amadu noted that on Tuesday November 28, this year, the South African Ambassador to Ghana led by the Upper West Regional Minister visited Han to inspect the site for the factory project under the One-District-One Factory policy initiative of the government.
The DCE therefore appealed to traditional authorities to champion development issues by releasing land for developmental projects in their localities.
She also urged all stakeholders and the general public to rally behind the Assembly so that the available resources could be utilised effectively to propel the Assembly into an enviable level that guaranteed growth and prosperity for all in the district.
Alhaji Sulemana Alhassan, Upper West Regional Minister expressed concern about recent incidence of armed robbery and stealing in the region and urged the general public to volunteer information to help in the arrest of such criminals to ensure the security of the region to boost economic activity and investment.
'These days, a brother will pick a gun and point at another brother in the name of wealth when indeed, in the past people were even afraid of pointing a knife at someone - this is not part of our culture and should end now with the support of all', the Regional Minister said.
GNA
By Prosper K. Kuorsoh, GNA