Puigdemont: The Unlikely Leader Of Catalonia's Campaign For Independence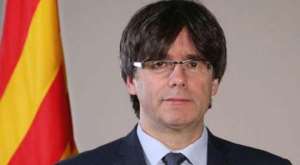 Accra, Oct 27,(dpa/GNA) - In less than two years, Carles Puigdemont has gone from relative unknown to the face of the most serious existential and political crisis in 40 years of Spanish democracy.
Puigdemont finds himself at a crossroads as Catalonia's parliament prepares to vote on a declaration of independence in response to the central government's announcement that anti-secession measures would be introduced under article 155 of the Spanish constitution.
"The Spanish government has undertaken the worst attack on the institutions and the people of Catalonia since [Francisco] Franco," Puigdemont said last week, referring to Spain's former dictator of nearly 50 years.
A 54-year-old philologist and journalist by training, Puigdemont was mayor of the mid-sized Catalan city of Girona from 2011 to 2016 before graduating to the presidency of the Generalitat, Catalonia's regional government, almost by chance.
"This is no time for cowards nor for those who waver. It is time for us to accept our responsibilities," Puigdemont said in his inauguration speech on January 10, 2016.
"I know we are launching a process that is neither easy nor comfortable. We will need to be brave and courageous, but not reckless," he added on the same day.
Puigdemont was chosen for the top job to replace his predecessor Artur Mas, a fellow member of Democratic Convergence of Catalonia (CDC), a centre-right party since renamed the Catalan European Democratic Party (PDeCAT).
Mas was forced to step aside after pressure from a junior ally, the anti-establishment, far-left Popular Unity Candidacy (CUP), whose support was crucial in forming a pro-independence government following regional elections in 2015.
Under Puigdemont, the Catalan independence project has taken unprecedented - some say reckless - steps, such as calling the disputed October 1 referendum on secession, which went ahead despite a Constitutional Court ban.
The referendum produced a 90-per-cent majority in favour of independence. But with a turnout of just 43 per cent and voting monitored improperly, Catalan leaders' claims that the result justifies secession are debatable.
Unlike Mas, who moved gradually from a pro-autonomy to a pro-independence stance, Puigdemont has always been a separatist. In 2015 and 2016 he led the Catalan Association of Municipalities for Independence, which organized earlier, informal ballots on secession.
Before entering politics, Puigdemont was editor-in-chief of the Catalan daily El Punt and director of Catalonia's public news agency. He also published several books and essays.
A fan of rock music, he is very active on social media, where he posts almost daily. He speaks Spanish, Catalan, French and English, as well as Romanian - the mother tongue of his wife, Marcela Topor. Puigdemont and Topor have two daughters.
On January 25, 1983, when he was 21, Puigdemont survived a serious traffic accident. He suffered injuries to his face and covers the scars with a peculiar hairstyle that is the butt of many jokes, even within his party.
GNA