12 August 2017
|
Feature Article
The Moving Spirit Of Kennedy Ohene Agyapong (2)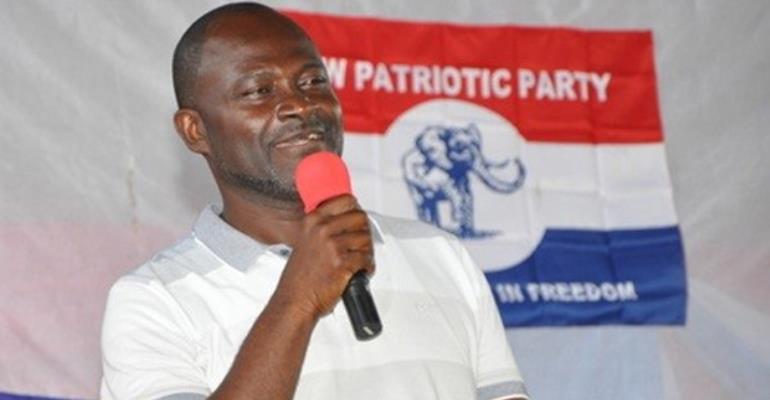 "I know the responsibility, I know the expectations, I know the legacy, I know what is behind me. I know the history of this club. I know what the fans expect of me. This challenge doesn't make me nervous because of my history over the last 10 years. It comes at the right time in my career. I feel stable and have great motivation. I am where I want to be." – Jose Mourinho, Manager of Manchester United Football Club
The personality of the Assin Foso town does not march the personality of Kennedy Ohene Agyapong. Kennedy Ohene Agyapong is a person who does not need any introduction to people who keep close contact with the media and the political temperature in this country. Love him or hate, you cannot fail to recognise his guts, brazenness, bashfulness and swagger. To those who despise and hate him, he is reckless in his utterances and acts foolishly and yet so far nobody has effectively challenged him and stack any legal charge against him. To those who worship and love him, he is their hero who does not suffer fools easily and pulls no punches with the fools and corrupt in society he meets on his way. My encounter with Kennedy Ohene Agyapong goes as far back as the first John Agyekum Kufuor NPP administration. It is a story worth telling in full.
During those days when the world market and the cedi dollar exchange rate were playing havoc with our petroleum industry resulting in the fluctuation of prices of petroleum products on the local market and therefore making planning difficult for our business sector, I came out with a petroleum pricing formula in this my column to solve the problem. My proposal was simple. At the beginning of the year the government should establish a hypothetical cedi-dollar exchange rate and a hypothetical crude oil price as a basis of pricing petroleum products in the country which will rule throughout the year. So, for example if at the beginning of the year the actual cedi-dollar exchange rate and world crude oil price were 2:1 and US$100 per barrel respectively, my suggestion was to assume an exchange rate of say 3:1 and crude oil price of US$120 per barrel respectively to form the basis of pricing petroleum products throughout the year.
This will result in surplus to the government during the early part of the year which should be put into a Petroleum Equalisation Fund Account. By the end of the year the exchange rate could have moved to say 3.6:1 and petroleum prices to US$ 130 per barrel which would result in deficit to the government. The surplus earned earlier and put into the Pertroleum Equalisation Fund Account would be used to defray the resultant deficit occurring during the latter part of the year. The mechanism would ensure uniform petroleum pricing throughout the year. Incidentally my suggestion later on became the basis for the establishment of the Petroleum Reserve Fund which was meant to defray the Tema Oil Refinery (TOR) debt.
Then the NPP came to power and Albert Kan-Dapaah became the Minster of Energy. He became alarmed at the amount of fuel consumed at the petrol depot at the Castle. So he came out with instruction limiting the amount of fuel anybody could lift form the depot. I wrote in my column that he should not kid anybody because there was no way the petrol attendant at the depot could refuse the instruction of the Minster of Energy to fill his tank. Then a few days later, when I went to the office, I received a message that the Minster of Energy had called me and left a telephone number for me to call. What came to my mind was he might not have felt happy with my article. I immediately called the number. The call went to the minister To my surprise, he told me that government had decided to establish a National Petroleum Tender Board (NPTB) and my name has come up as one of the persons to serve on the Board and he wanted my permission. He looked to me as person who speaks his mind and will say black if it is black and white if it is white. I said no sweat, after all it was national service. So that was how I ended up being a pioneer member of the NPTB.
We were sworn in by President Kufuor at the Castle. Kennedy Ohene Agyapong was one of the members of the new Board. It was at the swearing-in ceremony that we first met even though I doubt if we took notice of each other at that function. We had our first meeting at our adopted head office, a three bedroom flat housed in an old block of flats close to the expansive compound of the Latter Day saints office complex without any rules and established conditions of service. The office is currently occupied by the National Peace Council. We started our job without any enabling Act. From my earlier interaction with the Energy Board, (now Energy Commission), I knew there was something missing. I told my colleagues we could not operate without an enabling Act. I have had the opportunity to study the Act establishing the Energy Board and I felt we also needed an Act like that. So the government was informed of our fears. It took another four years for an Act to be enacted and by the time it was ready, the Act came with a new name: National Petroleum Authority (NPA).
As we started work, the group got to know each other better. I notice many things about Kennedy Ohene Agyapong. He was a non-conformist. There were times he will come to meetings in full western suit which could only have been purchased from some trendy Paris supermarket. Other times he will come in a political suit which appeared to have been sewn by an apprentice tailor at Assin Dompim. There were other times too he will come in shorts with open neck T-shirt looking like a school boy preparing to play truant. He appeared to be full of energy but was able to control it. The aura around him appeared to be like somebody who always wanted his presence felt. There were times one could sense some deep frustration within him. He appeared to be somebody at war with the establishment and he always made his view point clear without mincing words. He very often appeared to have some mischievous smile on his face which accentuated the handsome face God gave him. From the way he carried himself, there was no way anybody who did not know him could judge his weight in gold as far as his wealth was concerned.
E-mail: [email protected]
By Kwame Gyasi