Single Digit Inflation by year's end - JAK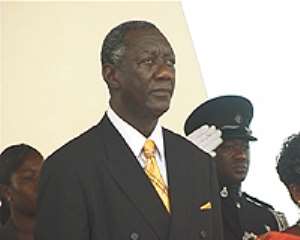 Accra, June 6, GNA - Inflation will hit a single digit by the end of the year, President John Agyekum Kufuor said in Accra on Monday. He noted that the Central Bank's Prime Rate had been dropping steadily over the past four years and just last week came down from 18.5 per cent to 16.5 per cent. "Inflation too is falling and hopefully will hit a single digit by the end of the year," he said. The current inflation rate is about 11.6 per cent. Addressing the opening session of the five-day Coca-Cola Africa Public Affairs and Communications (PAC) Institute Training Conference, President Kufuor gave the assurance that "this is the time and place for business". "There is peace in the land and with the recently established Commercial Court, the business community is assured of a speedy adjudication, should the need arise to protect its investments." The Conference under the theme: "How to Interact Better with Public Figures and Institutions" is organised for the Company to assess how it could work proactively on the African Continent, and especially Ghana. It would in addition identify how the Company could make greater impact on the economies and people where they operated. President Kufuor said the theme for the Conference was apt because "getting to know what the public wants and formulating policies to satisfy it must be the best approach for the success of not only businesses but policies". He said the Government believed in sincere, open and frequent interaction with its stakeholders as the best way for mutual understanding, trust and shared ownership of policies and programmes for national development.
"The Government is, therefore, nurturing a close and flourishing relationship with the Private Sector in particular through the Ministry of Private Sector Development, Ghana Investors' Advisory Council (GIAC), Ghana Investment Promotion Centre (GIPC) and Private Enterprises Foundation," President Kufuor said.
Mr Clyde Tuggle, Vice President of the Institute, said the Company's future was in Africa adding that it was privileged to operate in Ghana where the environment was ideal for investment. He said it was the Company's policy to partner Governments in countries where it operated. He said in the past five years the Company had invested about 22 million dollars in Ghana and paid tax liabilities of about 10 million dollars.
Mr Tuggle said the Company was growing and job creation had tripled.