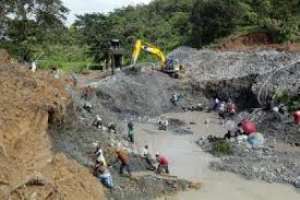 Ghana's fight against unapproved means of extracting her mineral resources known in Ghanaian parlance as "Galamsey" can never be achieve sustainably without allowing the laws and institutions granted the District Assemblies to work as the Planning Authority at the local level, because every parcel of galamsey site is located within a particular Assembly's jurisdiction.
In fact, Government did not formed Assemblies countrywide to only get the 1992 Constitution passed as basis of all laws on 7th January, 1993, but also to give greater powers for self-rule at the local level of governance . For instance, Chapter 8 (1,2,3) under local government and decentralization of the Constitution granted powers to District Assemblies to be a Central Point of Local Governance, Development Planning Authority and Revenue Generation purposes among other functions.
It is unclear whether the lack of Chief Executives in the 55 Municipal and 155 District Assemblies resulted the exclusion of MMDAs from and Chiefs from National CAMPAIGN/TASKSFORCE against illegal mining activities which hazards can culminate to national disaster on water crisis.
Government must take appropriate measures to establish small scale mining model under the Youth Employment Agency as well as district taskforce against the hazards of illegal mining with clearly defined guidelines and penalties for the entire actors including District Magistrate Courts and NADMO to adopt appropriate Behavior Change Communication (BCC) strategies to preserve the natural resources for the unborn generation and Ghana. When the Assemblies are part of the National Campaign, the constitutional provision that established Lands Commission for management, registration , and enforcement of lands laws, all developers will adhere to approved well-laid-out plans by statutory planning committee of the 216 Assemblies hence closed down of all illegal mining sites because majority of them are not demarcated and lack legal documentations.
In practice, Decentralization have empowered MMDAs to plan for every piece of Land in Ghana irrespective of the ownership and the country is likely to achieve full devolution of administrative decentralization under Nana Addo Dankwa Akofu Addo Presidency where citizens will elect the Chief Executives of their various Assemblies after the necessary instruments attained legislators approval .
Notwithstanding above, the issue of physical development /urban renewal in MMDAs is guaranteed by the statutory provision which state that every District Assembly is a statutory planning area, meaning all physical and social development shall be carried out in accordance to approved plans. Besides the constitutional provision, Local Government Act 462 section 46(3) have empowered District Assemblies in Ghana as planning Authority for all social and physical development. It means the Assemblies are responsibly for Land Use Planning and urban renewal planning ; where the Town and Country Planning department prepares well-laid-outs by relying on the accurate maps from the Mapping Agency ( Survey and Mapping Division of Lands Commission) that use Global Navigation Satellite System (GNSS) such as Global Positioning System (GPS), Total Station among others for foundation data( coordinates ) whiles the Surveyors intend use the well-laid-out produced by the planning authority to demarcate and prepare site plans as part of its mandate. However, where accurate map does not exit town sheet, satellites imagery options are utilize or surveyor is engage to capture detailed/real data from land area. According to the 1992 Constitution, National Development Planning Commission ACT 479(1994), National Development Planning Systems ACT 480 (1994)and Local Government Act 462(1993), the Decentralized Planning System shall comprise of the District Planning Authority ( District Assemblies) which planning role are basically sectorial development such as Education , Health, Water and Sanitation, Agriculture, Economic and Physical planning of local or urban areas.
The laws also gave Metropolitans, Municipal and District Assemblies major roles of Land Use Planning where each District Planning Authority together with the District Planning and Coordinating Unit (DPCU) shall plan the use of all lands within their jurisdictions including urban renewal (re-planning) of developed or built up Areas.
It must be underscored that in Land Use Planning there are 4 key players namely, the Owner of the Land, the User (Private or Public ), Lands Commission and the Planning Authority made up of the District Planning and Coordinating Unit, Town and Country Planning Department, Survey and Mapping Division, E.P.A ,NADMO, Stool Lands, Traditional Council ,Security Agencies, among others constituting the Statutory Planning Committee of the Assemblies. Urban renewal or redevelopment is the responsibility of the District Planning Authority whose functions are carried out by the Statutory Planning Committee for review of existing land use and redesign for the new development. If it is for Public use, then the State often acquire it or use compulsory acquisition and compensate the owners thereof.
By these constitutionally supreme powers of the MMDAs if the Government Establish District Taskforce against Galamsey and related issues they can invite the land users (illegal mining operators/syndicates) to the District Statutory Planning Committees and Special Courts by Chief Justice to vet galamsey operators legal land documentations(approved laid-outs and site plans, title registration and leasing) and required operation permits from regulatory bodies such Environmental Protection Agency(E.P.A), Minerals Commission , Ghana Chamber Of Mines, Fire service, NADMO, Water Resource Commission , Lands Commission for possible compulsory acquisition by the State and Rezoning Proposal approved by Parliament after compensation of owners for sustainable development achievement in Ghana.
In fact, practice and existing documents have showed that both illegal and some of the legal mining firms usually complete their prospecting using Global Navigation Satellite System (GNS Systems) to confirmed the entire content of mineral resources, acquired documentation on necessary statutory areas and sometimes downplayed their activities adverse impacts on human and the environment before assuming that it will be customary proper to inform the traditional councils or Rulers to solicit their support and cooperation. Unfortunately some of these Chiefs are blamed by the some people.
I called on the government, the media particularly your medium, civil society gtoups together with other stakeholders to table utilization of District planning authority as permanents way to galamsey free communities in Ghana. Disaster Prevention Pays.
Iddrisu Neindow Baba, NADMO Administrator(Techiman), and Disaster Management Student of UCC
Contact: 0207450347 or [email protected]