Joost van der Westhuizen -- one of the greatest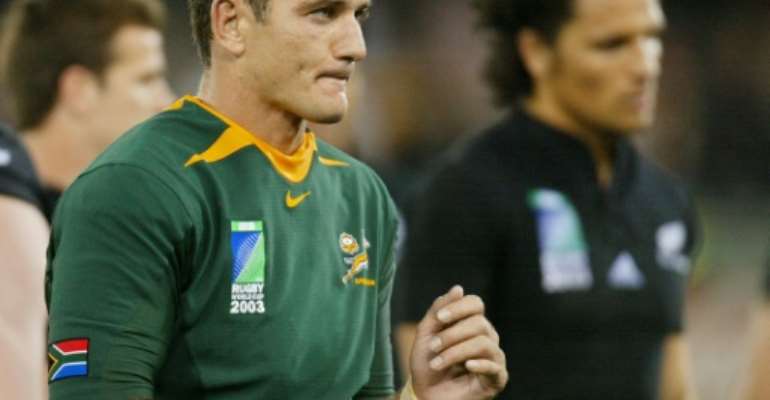 Johannesburg (AFP) - South African rugby legend and World Cup winner Joost van der Westhuizen, who died Monday aged 45, will be remembered as one of the greatest scrum-halves of all time.
Many former internationals rate the Springbok standout second only to former Welsh great Gareth Edwards among international scrum-half superstars.
His duels with fellow scrum-halves George Gregan of Australia and Justin Marshall of New Zealand two decades ago captivated spectators and worldwide TV audiences.
"He will always be remembered as an incredible rugby player," Gregan said during a dinner in honour of Van der Westhuizen.
Marshall also attended the function and said: "Joost was a magic player. When on song, he could win a game almost single-handedly."
Van der Westhuizen lost a long battle against motor neurone disease, the incurable nervous-system condition, after being rushed to hospital on Saturday.
South Africans cherish memories of the finest moment in a success-filled career when he set up the Joel Stransky drop goal which won the 1995 Rugby World Cup for the Springboks.
Watched by then state president Nelson Mandela at the Ellis Park stadium in Johannesburg, Van der Westhuizen delivered a long pinpoint pass from the base of the scrum as the clock ticked down in extra time.
Stransky calmly kicked the goal to give South Africa a 15-12 win over the Jonah Lomu-inspired New Zealand All Blacks to became world champions for the first time.
When the Springboks gathered in 2015 at Ellis Park to celebrate the 20th anniversary of the World Cup triumph, Van der Westhuizen attended in a wheelchair.
Van der Westhuizen was also part of the Springboks team that finished third when defending the world title in England four years later.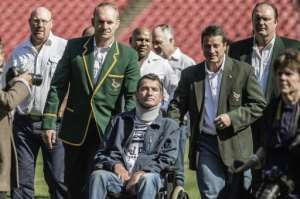 Former South African Rugby World Cup winner Joost van der Westhuizen (front) is assisted by former captain Francois Pienaar (2L) during a re-enactement of the 1995 Rugby World cup victory team photo at Ellis Park in Johannesburg on June 24, 2015
His Test career ended on a low note in 2003 when a South African team beset by pre-World Cup problems lost heavily to New Zealand in the quarter-finals.
First capped by the Springboks in 1993, he made 89 international appearances and scored 38 tries, a remarkable total for a scrum-half.
Traditionally, the role of a No. 9 was to feed scrums and forage for the ball at rucks, mauls and loose play, then pass it to his fly-half.
But Van der Westhuizen, tall and dark haired with matinee-idol looks, helped create a new breed of scrum-halves who greatly expanded the role.
"An incredible player and fighter to the end. The first of the new age 9's," tweeted Ireland and British and Irish Lions legend Brian O'Driscoll.
Instead of always feeding the fly-half, the Springbok would launch solo raids, catching defences off guard.
Blessed with a strong physique, Joost was able to shrug off would-be tacklers and many of his Test tries came off runs from deep positions.
He was a product of the famed Pretoria-based Blue Bulls, a team that for decades had been among the dominant forces of South African provincial rugby.
After retiring as a player, Joost followed the employment route of many other former Springboks and worked for Johannesburg-based SuperSport as a TV analyst.
Career ended abruptly
But his media career ended abruptly when a video emerged of him engaged in sex play with a mystery blonde and snorting a white substance, presumed to be cocaine.
Having initially denied he was in the video, Van der Westhuizen confessed and publicly apologised for lying.
"What I did went against all my principles," he said.
Another report claimed the former Springbok had an affair, while his wife was in hospital, with an ex-national athletics champion.
His wife divorced Van der Westhuizen, only for her and their two children to reunite with him and assist his battle against motor neurone.
When Van der Westhuizen felt a weakness in his right arm during 2008, he attributed it to the after-effects of an old rugby injury.
But later, while playing in a swimming pool with his personal doctor, the weakness became more obvious.
The doctor suspected motor neurone disease -- a devastating diagnosis that was confirmed by specialists.
Van der Westhuizen was given five years to live, and fought the increasingly debilitating disease with a bravery that touched South Africans.
By his own admission, an arrogant, aloof person, Van der Westhuizen won thousands of admirers with a new-found humility.
Apart from fighting the incurable disease, Van der Westhuizen created a foundation to help fellow sufferers.
Although confined to s wheelchair, he travelled to the United States and Britain to highlight the disease and take part in various trials as doctors sought a cure.
When told he was suffering from motor neurone disease, Van der Westhuizen reacted angrily.
"Why me?" he asked a specialist.
His attitude quickly changed.
"Why not me," he said. "If this is the cross I must bear to help future generations, then I will do so."