A Letter To Paul Afoko et al.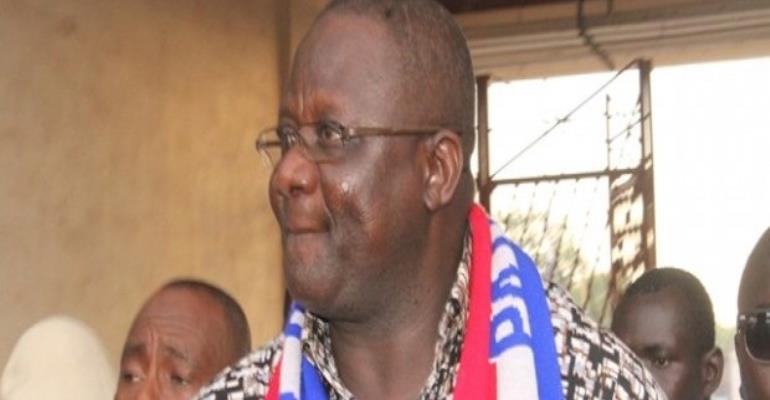 Dear suspended executives,
I greet you all in the name of God Almighty. Forgive me for composing this piece at such a time when the quintessential thing to do is to be sober in the New Patriotic Party's victory and build bridges among its sympathizers.
However, for the time being, at least, let me salute the President elect, Nana Akufo- Addo for plucking up courage and keeping his perspectives right all these years. At a time when the New Patriotic party was smitten with a vicissitude of rumpus and a state of great disorder and uncertainty, he hanged in there and kept his nose to the grindstone.
Indeed, a good few vanguards of the New Patriotic Party, including you, didn't believe in the "change agenda" which had resonated quite well among the denizens of Ghana. On the preceding score, it can hardly be gainsaid that the enviable image of the NPP experienced a sudden negative change when you were elected as National Chairman, General Secretary and Second Vice Chairman. Before your election into office, there was the suspicion that some fiendish fellows in the NPP were bent on cramping the style of the Flagbearer. It was alleged that you were scrupulously working towards a certain "agenda 2020".
Honestly, I was ready to dismiss such a claim. As fatuous and insipid as I thought it sounded i expected those making that claim to back it with something of more evidential value. Unfortunately, your hubris and countenance gave credence to it. Prior to your suspensions, the traditional print based media would be remiss if they didn't have a disquieting banner headline accentuating the latest on the feud in the NPP. Television and radio newscasters couldn't help but keep the numerous NPP faithfuls on pins and needles as if their hope that the dust would settle anytime soon was beyond the realms of reality. As for the unsung web based media, it was a huge opportunity for them to have a claim to fame.
It stood to reason that the seeming confusion was part of a complex matrix engineered to tear the Party into shreds so that a disunited NPP under the leadership of Nana Akufo- Addo would suffer another electoral defeat in 2016. After the defeat, you would then claim that the Flagbearer is not marketable. This would pave way for your preferred candidate to be elected.
And so when the leadership decided to instil some discipline into the party, you saw it as if to surrender to the happiness of the party was to accept defeat, although it was a defeat better than many victories. For this purpose, you(Paul Afoko and Sammy Crabbe) insisted against common sense and poignantly dragged the NPP to court. How great it would have been, to let it be?It was as much a stressful exercise as it was time-wasting. I could imagine that a good number of Ghanaians who subscribed to the ''Change Agenda'' could feel their bones straining relentlessly under the weight of the ensuing melee. I was totally lost in my longing to appreciate why you chose to drag the NPP to court a few months to the General elections.
But you see, the pieces and battered Political party that you made the NPP to become, God gathered them and gave them back to the Ghanaian people in all the right order.
It really does not do well to dwell on the past but the lowbrow Baah Akyamfour who had been doing your bidding, under the pontifical banner of "save the NPP now'' had been sojourning between some NDC affiliated radio networks. He was pleading vacuously with the Ghanaian people not to vote for the NPP. His argument was that a defeat in the December polls would be the only way to ensure unity within the party.
In order that the upper echelon of the NPP, particularly the flagbearer would be tarred with the same brush as being corrupt, Baah Achamfour accused them of opening a secret and illegal Eco bank account. He claimed they had embezzled party funds even though the party had come out to clarify that the said Eco bank account had existed for about 12 years and that there was nothing illegal about it. Hitherto the creation of this distortion by Baah Achamfour, the general refrain across the country had been that unbridled corruption and extreme greed for material wealth had plagued the Mahama led administration unconscionably.
Mr Afoko, were you praying and expecting the NPP to win the December polls? I really dont think so. Otherwise why did you state with aplomb chutzpah before the December elections that you were not going to vote for Akufo- Addo? "I wont vote for Akufo Addo"-Afoko-see, modernghana.com-24 march 2016. "I am not sure I will vote for Nana Addo. My vote is my secret; it's up to me and my God whom I will vote for." You told UTV, an Accra-based private television station.
Just before I put myself down to bleed my emotions on my computer, my attention was drawn to a publication, attributed to you Paul Afoko, on the heels of Akufo- Addo's electoral victory which says, ''We shouldn't disappoint Ghanaians" -Afoko to NPP-see, peacefmonline.com-26 December 2016. When I read this, i thought two thoughts, and the two thoughts I thought were these:
1)Now that we have crossed the Rubicon, there is nothing to show for your headstrong tomfoolery except the memory of the pain you caused the NPP once upon a time.
2)You have been utterly embarrassed by the way things have panned out and the only way out is to ask for forgiveness.
I wonder if this is how forgiveness should flower, not with the fanfare of contrition and pity but with pain slipping away unannounced in the middle of the night. Maybe it is just that politics in Ghana doesn't get any better than hypocrisy and dishonesty, or any worse.
It frightened me to think of Nana Ohene Ntow's shameless optics when I saw him on TV during the NPP's thanksgiving ceremony. Each of his utterances didnt strike me grievously than the last one. He alleged that the President elect Nana Akufo-Addo had given the indication during the Party's NEC meeting that the suspended party executives should be reinstated.
You see, in my village, Kwahu Obo, folks say God crumbles the old moon into stars. Suffice it to say that, the old man whom you thought was fighting a losing battle has come up trumps and has become the poster child for contemporary Ghanaian politics.
Now to the main thrust of my letter...................................................................
If the National executive committee of the New Patriotic Party realises that you the suspended executives have shown enough remorse and decides to forgive you, so be it because I know and believe that tomorrow is always fresh with no mistakes in it yet. But my humble plea is that, if you strongly feel you are in firm control of your mental faculties, and have any conscience, do not accept to be reinstated. Your consciences should not allow you to. If your consciences fail you into accepting to be reinstated, how are you going to relate to President Akufo- Addo after leaving him in the lurch?
Sincerely,
Emmanuel Amoafo Kesse