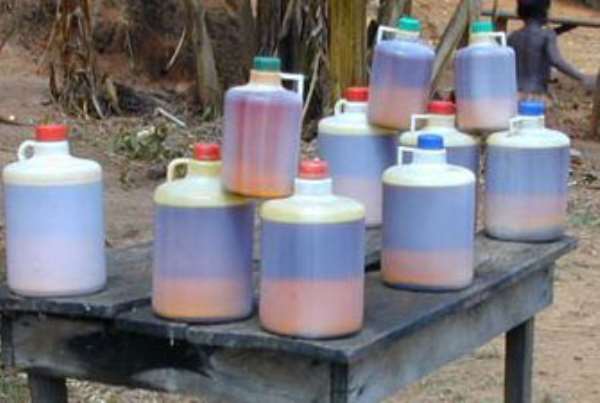 Ghana's Food and Drugs Board (FDB) and other Government regulatory agencies are gradually losing credibility in the European community due to the unscrupulous officials in the food export business.
In the last quarter of last year alone, the FDB received as many as 76 complaints of health alerts from the European Union (EU) warning the country of certain unwholesome practices in the exportation of food to EU countries.
John Odame-Darkwa, head of food safety and nutrition of FDB, made this known yesterday at a stakeholders' meeting on guidelines for the export of palm oil in Accra.
He said 90 per cent of the complaints received were cases of some exporters diluting their palm oil with Sudan IV, a carcinogenic industrial dye meant for training leather.
Mr Odame-Donkwa said other complaints raised included groundnut paste containing aflatoxins, chilli powder (ground pepper) mixed with ground avocado pear seeds or dried and ground cola nuts and yams with holes and dirt in them.
He said there was the urgent need for Ghanaian exporters to desist from the practice of exporting foodstuffs of questionable quality as it posed serious socio-economic and health implications for the country both locally and internationally.
He also advised them to properly label and address all export products for easy identification of exporter in the event of any problem.
Emmanuel Agyarko, chief executive officer of FDB, said the exportation problem was of great national interest "with numerous dimensions not only to the growth of the palm oil industry in Ghana but its survival on the international market.
He said, "the Malaysian success in the palm-oil industry has proven that when properly managed, its contribution to the export business can turn the clock round to achieve a favourable balance of trade for Ghana."
Dr Kafui Kpodo of the Food Research Institute warned exporters and local traders that "adulteration of any kind is not allowed because it is a crime" saying "make sure that the quality of what we export is the same as what we consume locally."