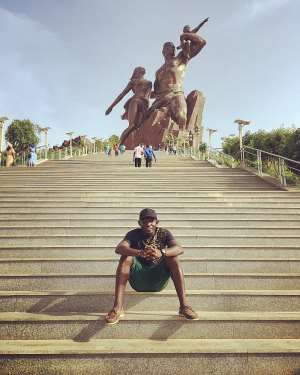 I am not the first Nima boy to be in this land of the tallest statue. I will certainly not be the last. Every year, a lot of our folks from around the world come to this land to 'worship' in the mosque of one of the foremost Islamic scholars of West Africa, Sheikh Ibrahim Nyass. A significant percentage of these yearly numbers, come from Nima.
In 2014, the Ghana Broadcasting Corporation organized a programme that brought together the most vibrant of all the Supporters Union in Ghana. The programme was designed to find out which of the unions had tremendous efficacy in its support for the National teams of Ghana. Most of the unions that participated were formed and based in Nima. At the end of the caboodle, Great Africa Supporters Union (GASU) won. It is a Nima-based group. The point I am trying to drive home is that through the travels of these unions to support the National teams in their engagements, a lot of Nima guys also have been and will be to this land.
However, I am not here for religious purposes. I am not here to support any of our National teams either. I am here on a different mission altogether. I am here to empower myself to help champion the noblest cause on earth; to serve humanity. One of the facilitators here described this as "the most important job on earth." Together with other youth from diverse parts of the world, I am here for a youth empowering training on community development. As a community-activist with Rayuwa Foundation, I am here on the land of the great West African scholar, Sheikh Amadou Bamba, who is said to have dazzled and left colonialists in awe when he walked and prayed on water. I therefore want to put on paper for posterity to glean from, my interactions with this wonderful land with an all-uniting motto, Un people, Un But, Une Foi.( One People, One Goal, One Faith).
After all, "when things are written, they have a lifetime of their own" as stated by Benjamin Disraeli.
When I was in the primary school, I was so much enthused about quizzes and debate competitions. I always ended up representing my class, section or division in such contests. I knew the name of this country with its corresponding capital city since then. In Junior High School, my appetite for history was profoundly whet by Mr. Denis Nchor, a then Social Studies tutor (now with a Policy Think Tank at Czech Republic) who really took us through the various tribes in Africa and their countries of origin. We studied the empire systems before it was taken off the syllabus the year we left Junior High School. And so I came across the Wolof, Fula, Soninke, Mandinka and other ethnic groups that hail from this land.
In the 2002 Japan/Korea World cup, one of the teams together with Turkey that caused a major upset in the mundial was the team with the nickname Lions of Teranga from this land. Led by their ferocious talismanic leader, El Hadji Diouf, they unleashed the wrath of so many years of being in the soccer wilderness by beating World and European Champions France in the tournament's opening game. A feat they repeated on almost all opponents they met. They were eventually stopped by the Turkish National Team. My favorite player though was Khaliou Fadigah. We all joined in the celebrations as we solidarized with that powerful team to take on the world in their first ever appearance at that stage.
Another interesting interaction with this wonderful land is through the pages of literature. I studied Science in the Senior High School. The woman who took me through English language, Miss Sandra Arhinful really whipped up my interest in literature. An unusual phenomenon for a Science student. After Senior High School, I began to consume books like air. I began to buy books with a sensation many will describe as lunacy. My friend Hanif Cisse usually provided me with Prentice Hall literature books.
In one of the numerous Prentice Hall literature books he gave me, I came across the Negritude Movement and its foremost proponent, Leopold Sedar Senghor. Senghor eventually became the first President of Senegal. He was erudite, a poet, a philosopher and he personally drafted the Senegalese National Anthem "Pincez tous vos koras."
On the website of Africana Age, Negritude is described as "a cultural movement launched in the 1930s by French-speaking black graduate students from France's colonies in Africa and the Carribean territories. These black intellectuals converged around issues of race identity and black internationalist initiatives to combat French imperialism. They found solidarity in their common ideal of affirming pride in their shared black identity and African Heritage, and reclaiming African determination, self-reliance, and self-respect."
I really fell in love with the organization though on paper because of the fact that it was a literary organization that sought to imbue in the black man a sense of consciousness that is really needed in a continent where poverty and issues germane to it has robbed people of their consciousness.
However, the first President of Ghana had an issue with the Negritude. Nkrumah regarded it as dishonest, backward-looking and racialist. In a speech delivered at the opening of the Institute of African Studies, Legon, and 25th October 1963. He stated: "When I speak of the African genius, I mean something different from Negritude, something not apologetic, but dynamic. Negritude consists in a mere literary affectation and style which piles word upon word and image upon image with occasional reference to Africa and things African. I do not mean a vague brotherhood based on a criterion of colour, or on the idea that Africans have no reasoning but only to sensitivity. By African genius, I mean something positive, our socialist conception of society, the efficiency and validity of our traditional statecraft, our highly developed code of morals, our hospitality and our purposeful energy." But hey, those are the days of straight-jacketed and stiff-necked ideological leanings. That cannot hold strongly in this day of ours when the cats and mice meet to discuss issues of mutual benefit.
All these interactions with this land was felt through the mind and not really physical.
Well, my physical interaction with this country which produced Youssou N'dour started on Wenesday, 24th August, 2016. After missing my flight on Saturday,20th August, I finally landed at dawn of 24th to commence my physical interaction with the country.
Today, together with others, I am in "Our canoe". If you care to know, Senegal is named after the Senegal River. One popular theory is that it stems from the Wolof phrase sunu gaal, which means "our canoe."
I will be here till the 2nd of September, 2016. I am here on the ticket of Rayuwa Foundation (an organization based in Accra that improves the lives of communities through psychosocial activities.) We are here at Tostan Training Center, an organization that is significantly championing the cause of Human- Rights in Senegal and beyond. My journey from Accra to Dakar and my stay here is facilitated by The Carter Center of the United States of America.
I am still embroiled in intensive training on Human Rights and how its translation into community development here. As I write now, I am preparing to go to the village of Keur Simbara. As to how that place is, I don't know until I behold its sight to appreciate it. Will feed you when I return.
Till then, remember that the Nima boy was here some.
Inusah Mohammed
NB: The writer is Youth-Activist and a Student of knowledge.