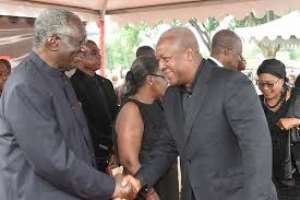 President John Dramani Mahama in a hand shake with Former president Kufour
Under the stewardship of His Excellency President John Dramani Mahama, the government of Ghana has, without doubt, waged war on corruption and created transparency throughout the country's administrative structure.
The commitment of President Mahama's government to make Ghana a corrupt-free society and to expurgate corruptible institutions in accordance with the law has unbendingly remained the rudder steering the National Democratic Congress (NDC) ship.
Many were incredulous when the opposition New Patriotic Party (NPP) tried to portray the present government as being as corrupt as the NPP government led by J.A. Kuffour.
As the dust from this political storm cleared, the NDC government was completely vindicated. The essential fact is that President Mahama rejected a Ford Expedition as a personal gift from Burkinabe contractor who won a contract from Ghana.
The vehicle was offered as a gift to the presidency through the Ghana Embassy in Burkina Faso. Upon the said vehicle's reaching his office, President Mahama declined it as a personal gift and directed that it be Ghana's property. The vehicle was immediately added to the country's car pool and has since been used by National Security in discharging its official duties.
The tracing of this vehicle's ownership path was made plain and accessible to the general public.
Further investigation revealed that the vehicle was not registered in the President's name which would have occurred if he owned it. This is because the car, as part of our national security apparatus, was not permitted to be registered due to operational and security reasons.
NPP saw this circumstance as another opportunity to dirty the "bribery-free fabric" of the NDC and to score cheap political points ahead of the 2016 election. As it turned out, the President's actions were impeccable. NPP could not cite evidence of any wrongdoing whatsoever and certainly nothing illegal. So instead, they made vague allegations of bribery, corruption and unethical conduct.
We are a country of laws, which is as it should be. The law applies equally to all. Upon which law did the actions of the President infringe? None!
Ethics is an individual's comprehension of what is morally good or bad and that is generally affected by one's tribe, upbringing, perceptions, and environment. With that said, I believe that the President displayed the utmost integrity consistent with honorable behavior as seen by Ghanaians throughout the country.
A review of some comparable history is instructive:
The company that constructed Tema Harbor and Akosombo dam also built Peduase Lodge (known as the Presidential retreat) as a gift to Dr. Kwame Nkrumah. Dr. Nkrumah promptly donated it to the country.
Former President J.J. Rawlings was awarded a gift of $50.000 USD which he used to upgrade the then agricultural college to a state-owned University of Developmental Studies (UDS) in Tamale with branches in Navrongo and Wa. What a show of patriotism!
Did Presidents Nkrumah and Rawlings violate law or ethics, commit an act of bribery or corruption?
In addition to Muammar Gaddafi's gift of a Benz that Ex-President Kuffuor used and destroyed before leaving office, President Kuffour also received a monetary gift from a farmer which he used to renovate his private home. Kuffour designated that same farmer as "the national best farmer" the following year. Really? A violation of law or ethics, an act of bribery or corruption? The silence of the NPP was deafening.
Former NPP Chairman, Haruna Esseku, told NPP delegates and party faithful that Ex-President Kuffour was the chief collector of 10% kickback from contractors at the Castle. The contractors to whom he awarded contracts paid the money to Kuffour stashed in a brown envelope. Kuffour as a President in office awarded himself State money of over $600.000 USD. Where was his party's concern about a violation of law or ethics, an act of bribery or corruption?
I also refer you to the gifts Kuffour's Presidency received from companies and individuals during the Ghana @50 celebration for which a proper accounting was not rendered. Hmm . . .! What do you call that conduct? A violation of law or ethics, an act of bribery or corruption?
All these were norms under Ex-President Kuffour.
TODAY is an egg laid by the past. We cannot ignore what transpired back then.
What is good for the goose is good for the gander.
Contrast the actions of Presidents Nkrumah, Rawlings, and Mahama with that of Kuffour.
I therefore challenge Ex-President J.A. Kuffour to come out of the shadows and unzip his lips on this matter.
President Mahama's character is impeccable, his conduct unassailable. He is the President with an unblemished reputation.
Long live President John Dramani Mahama.
Long live NDC.
Eye Zu . . . . . . . . . . . ..