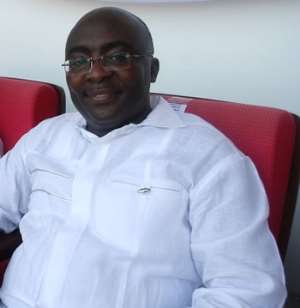 HOW MUCH MAHAMUDU BAWUMIA LOOKS LIKE DZIFA ATTIVOR IN THEIR SHAMEFUL RHETORIC OF POLITICAL ETHNOCENTRISM
Just as the dissenting cacophony over Madam Dzifa Attivor's recent rhetoric of political ethnocentrism is winding down, much to the delight of those of us who want to see ethnic and cultural heterogeneity retained within the geopolitical perimeters of the unitary nation-state at all cost, Mr. Mahamudu Bawumia, a leading member of the New Patriotic Party (NPP) and a Vice President-designate, has chosen to re-ignite the political discourse on political ethnocentrism.
And with unsavory divisive remarks, Mr. Bawumia has succeeded somewhat to get a section of the public trapped in a fluster, riled up. Here is a synopsis of his remarks that have ruffled some:
"Another major issue that I want to bring to the attention of the people is that; if we look at the flagstaff house today, it does not reflect the people of Ghana in terms of religion.
"We are in this country living peacefully and nicely; Christians and Muslims. So we believe in the NPP that Christians and Muslims should work together and that is why whenever we pick a flagbearer as a Christian, we pick a Muslim as a Vice. And when we come and pick a Muslim as a flagbearer, we will pick a Christian as a vice.
"So if, Insha Allah, Nana Akufo-Addo becomes president, he will swear with the Bible and enter the Flagstaff House and I will swear by the Quran and enter the Flagstaff House."
What a load of crazy, stupid talk!
Of course though we will accept the designation that Ghana is an insane asylum with a kleptomaniacal duopoly of schizophrenic politicians at the head running amuck and roughshod over the place, we will concede that not every citizenized spectator of that country's political life is ignoramus.
There are indeed intelligent Ghanaians, men and women, who see through the thick political ethnocentrism and ideological gimmicks of the likes of the Kennedy Agyapongs, the Ursala Owusu-Ekufuls, the Akufo-Addos, the Dzifa Attivors, the Yaw Osafo Marfo…And now Mr. Bawumia.
The Bawumias, that is!
And this is even more troubling, because that Orwellian insane asylum has not lost that designation of secularity to theocracy, or political religion, yet. While he comes across as a liberal Muslim, Mr. Bawumia's tendentious remarks have undertones of conservative ethnocentrism.
For our readers' information, ethnocentrism is not just about ethnic chauvinism (nationalism). It also is fundamentally about condescending judgmental values involving behavior, culture (memes), customs and traditions, and religion as a standard against which other variables from without are valued and measured and evaluated.
This does not necessarily rule out the fact that certain ethnic groups within certain geographical locations in time and space share an overlap with certain religions based on a set of variables, including, but not limited to history, commerce, patterns of migratory dynamics, marriage, and one's accidental birth. And this, in turn, does not necessarily rule out the fact that Mr. Bawumia's peculiar language of political sophistry will, ironically, place Christianity and Islam, two major religions with antagonistic theologies and doctrines, in a conciliatory juxtaposition.
We will not even dare ask the rhetorical questions: Why is Mr. Bawumia not a Muslim? Why is Akufo-Addo not a Muslim? Why is President Mahama not a Muslim? Why is Vice President Kwesi Amissah-Arthur not a Muslim? And why none of them is a Buddhist, a Hindu, an Eckist, a practitioner of Traditional African Religion, a Rastafarian, a freethinker, an atheist, a Shintoist, a Baha'i, a Zoroastrian, a Mormon…
We are not asking because they are not necessary and because religion is a personal decision and choice. This is not to say Ghanaian citizens of any religious persuasion cannot and should partake of the political process. Far from it. As citizens they should, certainly.
What we are rather saying is that religion should stay out or steer clear of secular politics, which the Constitution makes eloquently clear. The separation of church (we prefer the more generic term "religion") and state is extremely important. And yet these Christian and Islam labels are nothing more than convenient frames of hypocritical irony in many a situation. It also turns out that most of the professional thieves, political criminals and pathological liars in both parties, the NPP and the NDC, belong to either of these two major religions. Political religion is a façade, a gloss!
What is more, the Flagstaff House which Mr. Bawumia respectfully referenced in his controversial remarks is, itself, a diabolical insane asylum, an insane asylum of congenital thieves and instinctive criminals, which commands no respect among the populace. Ironically, the presidential house managers of this Flagstaff House have either been a Muslim or a Christian.
After all, how many practitioners of Traditional African Religion, Hindus, Buddhists, Eckists, Mormons, Rastafarians, Shintoists, freethinkers, Baha'is, Zoroastrians, atheists…have ascended the presidential throne?
The condescending language of Mr. Bawumia's political sophistry ignores these other indispensable categories of religious persuasions in the national political discourse on inclusive democracy, a sad oversight in the case of an influential and intelligent public figure with a doctorate and a rich educational history.
His condescending language disrespected these other belief systems, a view uncharacteristic of a man who should have been familiar with public diplomacy and with the public library of politically correct vocabulary of inclusiveness, an unfortunate happening nonetheless. Whipping up religiocentric sentiments, rather than investing in effective electioneering campaign strategies, will not win any elections for any political party, not least the NPP.
More importantly, Mr. Bawumia knows what he is doing and where he is heading with his opportunistic newspeak politics. He knows his third-class station in the ethnocentric NPP all too well, and therefore, a tactical shifting of the political discourse from the NPP as an "Akan Party" or and "Asante-Akyem Party"—since the NDC is already multiethnic in political structure—to the NDC as an "anti-Muslim Party" will somehow change the familiar dynamics of that political discourse.
That opportunistic approach to political discourse was and still is, in fact, a tactical diversion for the mere purpose of political expediency, alas, to secure a windfall of comparative advantage for the infamous ethnocentric NPP in the political calculations of strategic and tactical electioneering. Again, this will not win elections for the NPP. We cannot overemphasize this point.
But Mr. Bawumia should not be singularly indicted for his misguided, grossly misplaced, and deeply regrettable language of political sophistry.
Just the other day it was Eric Opoku, a leading NDC member who provoked public fury with the following statements:
"All Muslims who align themselves with the opposition New Patriotic Party (NPP) are fake because the Qu'ran advises Muslims to stay away from elephants which is the emblem of the NPP. The Member of Parliament for Asunafo South supported his claims with a chapter in the Holy Qua'ran, Surah verse 105, which he said stipulates that Muslims who have something to do with an elephant is not a real Muslim."
Opoku's statement therefore clearly makes Mr. Bawumia a "fake Muslim."
On the other hand we have criticized Opoku elsewhere for his insensitive rendering of a Koranic scripture, to spite a section of the Ghanaian Muslim community for reasons of undue advantage along an opportunistic path of political partisanship.
FINAL THOUGHTS
Patriotic Muslim organizations and citizens should come out in droves to roundly condemn Mr. Bawumia's inflammatory rhetoric of political ethnocentrism. Thus far, the National Peace Council (Rev. Prof. Emmanuel Asante) has issued the following strongly worded condemnatory indictment of Mr. Bawumia:
"I consider the statement coming from Dr. Bawumia, a man I highly respect as most unfortunate…Anybody who wants to play a religious card to solicit for votes may be doing a lot of damage and may be playing into the hands of religious extremists. I want to use this opportunity to appeal to our politicians not to play religious and ethnic cards because it does not help our country, it rather divides and can create tension…I would humbly plead with [them] to concentrate on issues."
The Christian Council of Ghana (Rev. Dr. Opuni Frimpong):
"We must get people into positions because of what they can deliver and offer and not because they are from North, South, East or West. Not because they belong to religion A or B."
NDC Presidential staffer (Dr. Clement Apaak):
"He is making [the comments] out of mischief; if you look at President Mahama's appointees, they are across the board and it is not the case that we should be encouraging this kind of selfish religious-based intentions of persons because of their personal interest.
"There are many people in the government who are Muslims…So I don't understand why Bawumia would make such a false statement just for the basis of political expediency, it is condemnable and he owes the good people of Ghana an unqualified apology."
CONCLUSION
Clement Apaak did not ask Madam Dzifa Attivor to render an unqualified apology to the good people of Ghana, an unfortunate and regrettable situation. A clear case of Orwellian double standards!
On the other hand NDC's Kofi Adams, the National Organizer of the party, has also said "the monumental changes and improvements in Muslim communities in this country were initiated by Christians," adding further that under the leadership of the NDC organizing Hajj trips improved tremendously and also that, "the Islamic Education Unity supported Islamic Education was passed when President Mills was President."
He summarily dismissed Mr. Bawumia's comments out of hand, describing them as "silly." Yet the same Kofi Adams called Madam Dzifa Attivor's incendiary remarks "not farfetched." This is what he said in defense of Madam Attivor:
"I don't think that her statement was very injurious like somebody saying 'yen Akan fuor' or 'all die be die' or regions that do not have resources should not be given the right to lead in this country."
Essentially true, but another sad case of the gross application of Orwellian double standards.
In the final analysis only the village idiot, Nana Akomea, the NPP's Communications Director, thinks Mr. Bawumia is making a "case for balance, inclusion," even while condemning Dzifa Attivor and keeping quite over Akufo-Addo's "All-die-be-die" and "Yen Akanfuo," Yaw Osafo Marfo's and Prof. Amoako Baah's ethnocentric statements, and Kennedy Agyapong's call for Akans (Asantes) to kill Ewes and Gas. A gross application of the Orwellian double standards here too!
What a nation of political ignoramuses!
This begs the question: Does Mr. Bawumia's divisive comments make it look as though Ghanaian politicians are stupid?
REFERENCES
Ghanaweb. "We Need A Balance Of Muslims, Christians At Flagstaff House—Bawumia." May 2, 2016
Ghanaweb. "Bawumia's Religious Comment Unfortunate—Peace Council." May 2, 2016
Ghanaweb. "Vote On Merit, Not Religion—CCG."May 2, 2016.
Ghanaweb. "Bawumia Must Apologize For False Religious Claims—Apaak." May 2, 2016.
Ghanaweb. "Bawumia's Religious Comments Silly—Kofi Adams." May 3, 2016.
Ghanaweb. "Dzifa Attivor's Comment Not Farfetched—Kofi Adams." April 30, 2016.
Ghanaweb. "Bawumia Is Making A Case For Balance, Inclusion—Akomea Justifies."