Government Defence Anti-Corruption Index By Transparency International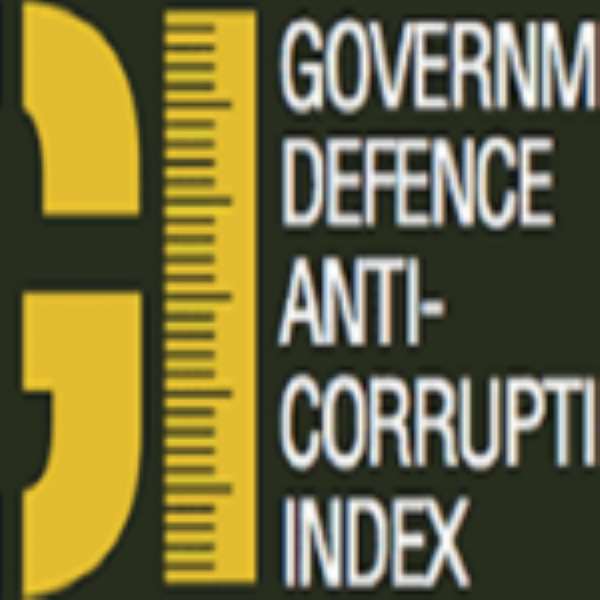 POINT OF ORDER
BY
KWAME GYASI
E-mail: [email protected],edu,gh
 
On Tuesday, January 19, 2016 at the Accra City Hotel (formerly Novotel Hotel) the Transparency International with its Ghana chapter, Ghana Integrity Initiative launched the African regional results of its 2015 Government Defence Anti-Corruption Index. (GI). 47 African countries including Ghana were covered in the African regional report
The Government Defence Anti-Corruption Index assesses the existence, the effectiveness, and enforcement of institutional and informal controls to manage the risk of corruption in defence and security institutions. The GI is designed to measure the risk of corruption in national defence and security establishments and to give an indication of how far they have adopted international best practice in key risk areas. The five risk areas identified for assessment were: political risk, financial risk, personnel risk, operations risk and procurement risk. The concept is that the defence and security sectors are subject to these five risk factors and therefore institutional controls must be put in place to mitigate those risk factors. The research attempts to quantify the extent of the presence of these risk factors and the institutional attempts to manage them.
.
It is very important to understand what the GI is and what it is not. Unlike the Transparency International's Corruption Perception Index (CPI) which is the most well-known ranking of countries according to the perceived corruption of the public sectors, it is not a measure of perception. It does not cover the whole government and does not attempt to make policy judgments on issues outside defence and security. It is not designed to make broad comparisons between one government's approach to corruption and the other. Rather, it is designed to measure the risk of corruption in national defence and security establishments and to give an indication of how far they have adopted international best practice in managing the key risk areas.
The GI scores each country from A (the best – very low risk) to F (the worst – critical risk). These bands are based on scores on assessment consisting of 77 questions. For each question, the government scored from 0 – 4.The percentage of overall marks determined which band the government was placed in. Each country is researched by an expert assessor using standard set of questions and model answers. The assessment is then independently reviewed by up to three peer reviewers and where possible, the TI national chapter. The government is also invited to conduct a review of the assessment and submit additional information.
When the first Index was published over two years ago, only a relatively small number of governments did so. The engagement this time was much bigger. The previous version of the Index covered only 18 African countries. At a meeting organised by UNDP in Senegal in 2014, there was a tremendous demand from both African governments and donors for more comprehensive coverage. And thanks to generous support from the government of The Netherlands.
Ghana is one of the seven African countries which scored highest in the Index (B and D – high corruption risk). Ghana's overall ranking in B and D (high risk) places it in the high category for corruption risks in the defence and security sectors. Ghana finds itself in the same category as Kenya and South Africa but performed better than Nigeria, which is placed in B and E (very high risk). No African countries scored higher than that. Ghana performed strongest in the areas of political and personnel risks (rated B and D). Ghana's score was weakest (B and E – very high corruption risk) for finance, operations and procurement. The causes and manifestation of defence corruption vary between states, and overall picture in Africa is mixed – with corruption risks ranging from D – F, representing "high risk" to "critical risk". The report noted that there is some existing good practice that Ghana should be able to build on to improve its systems, in some case, without much additional effort.
Several themes emerged across the continent notably:
Defence spending has increased across the continent by 91%, but institutional capacity is lagging. In many cases oversight functions exist in the form of anti-corruption bodies, audit functions, and/or parliamentary committees, but defence institutions are largely exempt from scrutiny.
Increases in defence spending are not necessarily enhancing state security. Too often procurement decisions are taken with little reference to strategic requirements; military effectiveness is eroded by poor controls, while forces are repurposed for commercial ends.
Defence exceptionalism is common across the continent. In many states, oversight functions such as anti-corruption bodies, audit functions and parliamentary committees are growing in authority, representing positive institutional potential to hold the executive to account. But in many cases, defence matters are considered highly sensitive and evade vital scrutiny. This secrecy is often unjustified and can be used to mask corruption, misuse and incompetence. Parliamentary defence committees are particularly weak across the continent, with little evidence that they are exerting meaningful influence on defence decision making. And in many states, defence purchases are simply exempt from procurement legislation and auditors do not venture within walls of the Defence Ministry.
Corruption is undermining public trust in the government and the armed forces, as well as posing a major threat to the success of operations.
International arms exports are profiting from conflict and insecurity.
Other sub-regions covered by the GI were Middle East and North Africa, the Asia Pacific, the G20 and NATO. Accra was selected by TI to launch the African report. Specific recommendations can be found at: government.defenceindex.org