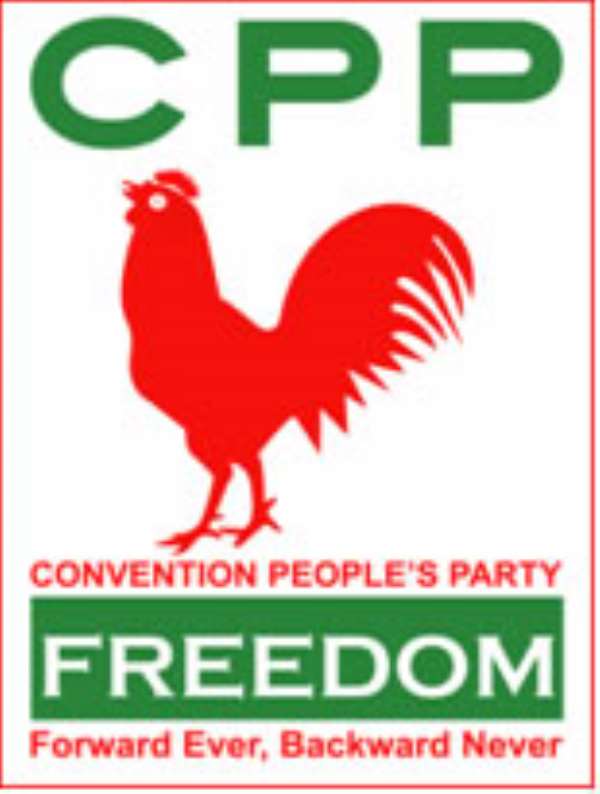 The Central Committee of the Convention People's Party (CPP) has confirmed the opening of nominations for Presidential and Parliamentary aspirants.
At its 21 December 2015 meeting the Committee decided that nominations will open on 28 December 2015 for both Presidential and Parliamentary aspirants.
Nominations will close on 11 January 2016 for Presidential contenders and for the Parliamentary on Thursday 31 March 2015.
Fees were decided thus:
Presidential Bid Aspirants
Forms – Ghc 5,000
Filing – Ghc100,000
Parliamentary Bid Aspirants
Forms – Ghc 500
Filing – Ghc2,000
Vetting of aspirants will be between 12th and 15th of January 201
The CPP Central Committee also swore-in and confirmed the following as Chairmen of Committees:
• Prof Agyeman Badu Akosa - Organizational Committee
• Kwamena Benyarko - Research Committee
• K.T Dadzie - Finance Committee
• Kwaw Ansah - Disciplinary Committee
• Ekow Duncan - Political Affairs
It made the following appointments:
Kadri Abdul Rauf Issifu – Director of Communication
Anita H. Abaidoo - Chair of Welfare Committee
Sistus Ullo – Chair of Youth Affairs Committee
Thank you.
Signed:
Kadri Abdul Rauf Issifu
Director of Communication
www.conventionpeoplesparty.org