Group Sues Minister Over AMERI Deal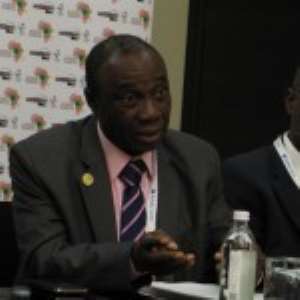 Pressure group Citizen Ghana Movement (CGM) has sued the Minister of Power, Dr Kwabena Donkor, the Speaker of Parliament, Edward Doe Adjaho and the Attorney General, Marietta Brew Appiah-Opong
demanding full disclosure of the controversial contract signed between government and the Africa and Middle East Resources Investment (AMERI) Group.
The applicants, Sarah Asafu-Adjaye and John Stephen Bonful, suing as members of the group, want the High Court to compel Kwabena Donkor, the Minister of Power, to furnish them with a copy of the signed contract together with the due diligence report if any.
The applicants, aside any further consequential orders from the court, are asking for an order for the Power Minister to make full disclosures on the said contract between the government and the AMERI Group.
The CGM members want an order directed at Doe Adjaho, the Speaker of Parliament, to make available the minutes or the records of deliberations together with the report of the Parliamentary Sub-Committee on Mines and Energy.
The suit follows questions relating to transparency and due diligence in the power deal after investigations by Norwegian newspaper Verdens Gang (VG) suggested that Ghana will pay double the cost for ten power plants being provided by AMERI Group.
The group, in a statement issued on Wednesday cataloguing a series of concerns over the deal, said some of the issues surrounding the contract include the fact that one of the persons involved is an international fraudster who is wanted for financial crimes as well as his engagement in organised crime.
It said another issue had to do with the financial arrangements and obligations of the Government of Ghana under the contract, stressing that there was also the issue of how the deal went through Parliament without full scrutiny.
"The court action is brought in the spirit of probity and accountability as well as in exercise of the civic responsibility to protect and preserve public property and expose and combat misuse and waste of public funds and property as enshrined in Article 41(f) of the Constitution," CGM noted.
The statement called for support from all Ghanaians and civil society organisations concerning this suit.
"We welcome any positive collaboration with any individual and/or civil society organisation as we collectively embark on demanding accountability from our leaders," it stated.
However, Nana Akwasi Awuah, Lawyer for Citizen Ghana Movement, speaking on Joy FM, said the suit should bring clarity to the matter.
"It is not a case of believing the Government or AMERI Group. It is the case that the information given by the Power Ministry is very scanty. If you look at the information that the Norwegian news house published and the reaction that came from the Power Minister, there are a lot of inconsistencies in there," he said.
By Jeffrey De-Graft Johnson 
[email protected]