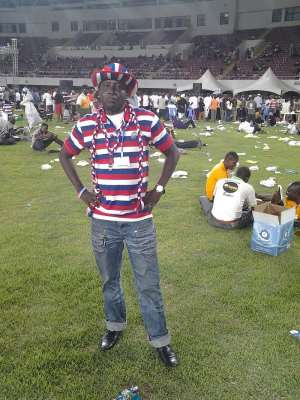 I was extremely busy on Tuesday when the by-elections were ongoing. I later checked on our SMC-NR page for updates where I read many violent incidences being perpetrated by the Azorka boys. My question was where are the Kandaha boys? Then a friend replied, have you asked where Yahuza and co are?, I then sighed and kept quiet.
Kandaha boys are group of NPP activists who fight against NDC thugs like Azorka boys, match them boot for boot and in fact managed to tame them. Azorka himself is afraid of these Kandaha boys. Hitherto, intimidations, threats, attacks on NPP members in Tamale metropolis specifically, were subdued with the emergence of Kandaha boys. Azorka boys won't have dared to go to Talensi let alone to engage in those violence, if the know Kandaha boys will be around.
During the 2008 elections, there were clashes between NPP & NDC youth groups and immediately the NDC came to power they invited the NPP guys to the police station but they refused to honor the invitation because none of the NDC guys were also invited which was unfair. The party leadership convinced them to go but refused and those who honored the invitation were arrested. Those who didn't listen to the party are now walking freely. This was around February, 2009.
I am not a lawyer but know that you cannot put someone behind bars for more than 48 hours without a trial and even if it is a criminal case, you must expedite action to process the case for court. This never happened, Yahuza and seven others were put in remind for more than four years without trial. The party which can boast of all the best lawyers and human rights activists in the country were silent on it.
Ironically, sometime ago, minority in parliament once boycotted parliament because one Adarkwa was arrested for calling president Mills a "chimpanzee" but hypocritically didn't see the need to stand for their members who were arrested without trials for more than four years. This is a party whose member of parliament can go to court to estoppe a whole EC from conducting the district assembly elections citing constitutional breach. This is a party that can assembly a whole team of lawyers to represent in court but not a single lawyer to fight for their own people who were unfairly put in remind without trials for years.
When NDC were in opposition, some of their members were arrested in Tamale, the next available flight brought Asiedu Nketsiah to Tamale and within hours, they were released. Nothing of this sort happened with regards to Yahuza & co. But when NPP activists boycotted all party activities because of the party's lackadaisical attitudes towards their incarcerated brothers, the next available flight saw the then general secretary Sir John in Tamale to plead with them not to boycott the party's activities. NPP for you!
NPP activists had to plead with their counterparts in the NDC to put pressure on the government to open the case for court proceedings begin and unfortunately were jailed with terms ranging from death by execution to life imprisonment. Let us not forget that they also have families; wives and children to take care of and i ask who will take care of them? Their motivation was that they had a party who will stand in for them no matter what, as NDC have been doing for their people. None of these guys will be given a ministerial or any respected position in the party had the party come to power except that they will pride themselves that their party is also ruling.
Early last year, an NPP guy was murdered in his house in Tamale when he was bathing which angered the Kandaha boys to retaliate. The NDC guys were walking freely while the NPP guys were on exile for months and only God knows what they went through during that time. Once again de party was quiet. How do you expect them stand for the party next time?
This Talensi clashes could have been avoided if the party had made its members feel they belong to a party worth dying for. Incidentally, some of our leaders who were victims (hon. Freddy Blay, Sir John, Gabby Otchere Darko) are all lawyers who had voices to stand in for their own yet did nothing!
I don't know why Kandaha boys didn't represent the party in Talensi but I don't need a soothsayer to tell me that they are "wise" now and had their own lives to live and also a family to cater for.
I pray and hope that the Almighty God will touch the heart of the president to grant Yahuza and co immunity and free them to re-unite with their families once again.
In Shaa Allah Yahuza and co will be freed!
Adwenfi Maka Maka
[email protected]