The Intermittent Power Outage (Erratic Power Supply) Is In Its Worst Stage (Dumsor Chapter 2)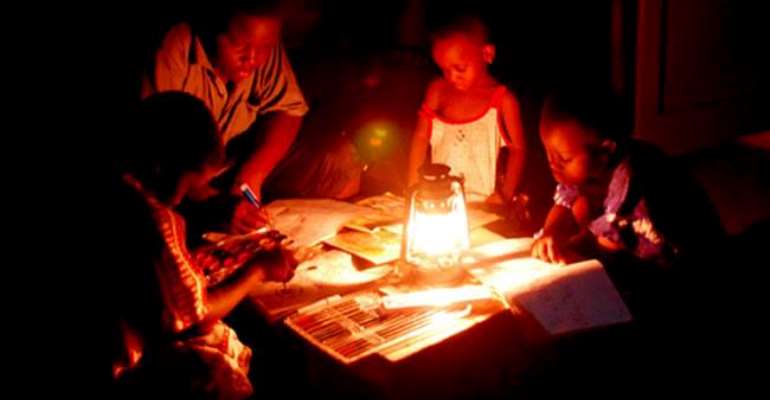 it is quiet democratically unfortunate that the plight of the ordinary Ghanaian is jetting with its erratic power supply as its headmaster. In 1992, the political colour of Ghana changed, we thought the wave of democratization that hit the shores of Africa was our saviour who would help us with that spirit of liberation from authoritarian ( rule by decree ) into the land of rule of law and thus what we are due would provided with immediate effect....
The said provisions of democracies are just illusions.... Back to GHANA, we are enjoying our fourth Republican dispensation... But the question is several promises have been made by his Excellency the president.. but the effects of this DUMSOR leave much to be desired... I wrote my first piece but it received insults by several NDC activists...
I interviewed a student from Tweneboah kodua snr high... The information I received was that due to the blind eye turned by John Mahama on solving this canker thus Dumsor, their prep hours are not effective, the cannot learn effectively on their own.. this in the long run has affected their academic performance...
The effect of this Dumsor has caused several losses in industries, laying of workers, THREE BABIES DIED AT NSAWAM HOPITAL BECAUSE THERE WERE NO LIGHTS TO POWER THE VENTILATORS TO KEEP THEM ALIVE ,the Ghanaian citizen now has to rely on an alternate power supply..(generators which are orders of the day.. increase in the price of fuel also Leaves much to be desired....
Do we attribute this to incompetence, political blindness or........ Please tell us what do you do with our taxes, IMF loans... Enrichment of their families and cronies is what they use our money for.......
NDC government cant solve this erratic power supply... Wat we are due is that the government must give us power (electricity )..and thus it shouldnt be erratic....
.mismanagement of the economy has attracted our discontentment, agitation, bone of contention,.... This political representation, representative democracy is nothing but a new face of authoritarian modification... Democracy is never an antithesis of totalitarian regimes with instances from African politics....
In 2016 fellow Ghanaians vote wisely 🙏... If you want to enjoy the leadership of an incompetent government.. I believe its up to your thumb to decide..
.OWUSU NSIAH ISAAC
.(POLITICAL SCIENCE. FINAL YEAR...KNUST
[email protected] com ..0501357211
.