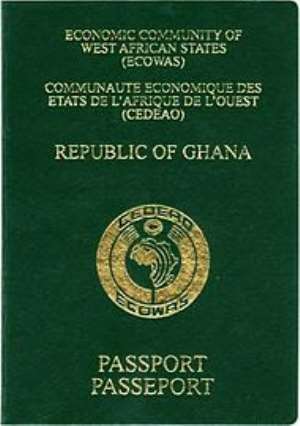 It has been a bit stressful as my preparations to participate in the 2015 FIFA Women's World Cup and the impending Toronto 2015 Pan Am & Parapan American Games keep on taking the better side off me lately; but for God and country, until I run past the finish line, I'm not done yet!
However, contemporary news that made headlines weeks ago had been the Republic of South Africa's Xenophobic attacks against foreigners and that of 'The horrors of the Mediterranean' as hundreds of people were forlornly drowned in the Mediterranean when their boat capsized during a desperate attempt to reach Europe. These two incidents inspired this write-up as I look through the life on an 'unfortunate' Ghana illiterate who works his way around numerous scenarios to get to 'The Great White North' (Canada).
These are my thoughts and like I have always maintained in my write-ups, I OWN these thoughts and as a writer, penning them into one great piece is my best way to publicize my opinions to you as a reader. I have met numerous Ghanaians and the chucks of them have a lot of stories that they panic about opening up to families and friends.
One amazing thing I have also observed has been the high level of illiteracy among a host of 'real' Ghanaians in Canada as I really don't pencil those born by Ghanaian descents that haven't even stayed in Ghana above a remarkable 5% rate of their entire life span as Ghanaians. Conversely, I also appreciate the efforts of those teens that are doing their best to associate themselves with Ghana by going back to their roots to know what it means to be GHANAIAN.
There are a number of Ghanaians I have come across which kind off baffles me of how they got into Canada but my major uneasiness is to the reasons why they have failed to upgrade educational and professional wise. Moving to North America and Europe is a dream for many, but the reality is often a nightmare. Kwadwo Appiah recounts: "Coming here 32 years ago wasn't easy but I managed to get here despite the numerous challenges that I went through. But now, everybody I speak to [in Ghana] wants me to bring him or her here (Canada) but the truth is, life is not rosy here. I have a small family but basically, it looks like am working everyday to enable me survive and to pay the bills because life in Canada is not an easy ride irrespective of who you are. I work virtually 7 days in a week but you have to ask me how much I save because everything goes back into bills."
Appiah, who works with a steel factory as a welder, earns an average wage of C$26.68 per hour. He has a wife and two kids and about 9 years to pay off his mortgage. Some people back in Ghana would envy him at a great deal and wished they were those in his shoes. "But why would they think I have money? Is it just because I am staying in abroad?" Appiah queried. "Many fear to tell you their stories because like the elders say, you just have to let sleeping dogs lie. But you have to know that, we are struggling to earn a dollar as we are stretched to our fullest limit before we can earn these dollars too."
So, in order to get more insights of what Kwadwo Appiah had been saying, I decided to visit some of the commonest places our Ghanaian folks reside in Toronto and as usual, I had to make stops at Jane & Finch, Jane & Wilson as well as Finch and Kipling. Almost in all the buses I boarded, there were close to FOUR Ghanaians in each bus and their loud conversations sold them off.
I was a bit petrified as I got to Jane and Finch neighbourhood as per Wikipedia narration, "is a community that has one of the largest concentrations of criminal gangs of any area in Canada. It also has "one of the highest proportions of youth, sole-supported families, refugees and immigrants, low-income earners and public housing tenants of any community in Toronto."
It was within the Jane and Finch community that I met Steve Atta Mensah who gave me more insights to buttress what Kwadwo Appiah had been telling me. Atta Mensah told me: "For some of us who weren't fortunate to be in school like you and your colleagues, the best option we had when we got here was to do everything we could to have our Canadian immigration status solidified and a lot of the Ghanaians did incalculable things to get their Canadian citizenships but at the long run, we failed to make everything we had laboured count, as we continue to work 7-days in factories either as full timers or through a job placement agencies. When you are new to the system, you become vulnerable and with your insistence to attain your immigration status, you're left at the mercies of immigration lawyers. "
Atta continues: `Life in Canada is better than that of Ghana but my brother, the depression alone "kills" you. I don't know how you can describe it in words but your mind runs very fast compared to what is happening. Rather than hoping for something that you will find at the end of the tunnel, your mind is occupied with things that rob you of options in just trying to survive to pay the bills." With his head leaning heavily against his arm and a resigned expression on his face, Atta Mensah described the weight that so much uncertainty has placed on his family. "If you call this depression, then, yes, [it is] depression."
Ghanaian skilled immigrants to Canada arrive with a sense of adventure and optimism, only to be beaten down by sometimes insurmountable barriers to meaningful employment. As rejection notices pile up, frustration can build to the point of depression. And as the months drag on and savings dwindle, mental-health problems can develop and adversely affect a person's ability to get a decent job and deal with the day-to-day challenges of life in a new country. It's a woman's world in Canada and divorces are one of the biggest set-backs rocking Ghanaian folks here too and fear of husbands getting kicked out from his home makes them neurotics.
Atta Mensah noted: "Back home in Africa, the men are the principal earners in many countries for immigrants to Canada. But for a variety of reasons, upon arrival, families often see the female find work first. This leads to a reversal of traditional roles, where the man is left with little to do and possibly caring for the household for the first time." There is nothing wrong with that, except that it does have an impact on the image of the husband," Atta added. "We used to be the protectors of the family. Now we find ourselves in a position where they can't even protect themselves."
Some immigrants are lucky enough to get a hold of the much wanted piece of paper that allows them to stay. Nii Larbi, a 36-year-old Ghanaian, is one of them. His family in Toronto looks after him and helped him to get a Canadian status and a job. Hence, no legal problems for Nii. Yet, the man is disappointed with his life in the Canada. He is dissatisfied with the amount of money he can save – "because life in Canada can be expensive" – and his social network is considerably smaller than it was in Ghana. "Everyone is full of expectations about abroad; they believe everyone is rich and that money solves every problem. But I can tell: it is not true. Being in abroad is not a fairytale." "My advice for other people who dream about coming here?" Nii asks. "Don't, unless you desperately really have to."
Munturi Abu who joined our conversation had kept a smile on his face for the duration of my interview with them. But he described his experience looking for work in Canada as humiliating and frustrating. "I stay home," Abu said. "I see my kids really doing well at school and studying and I see my wife working with a big hotel in downtown Toronto. And I told my wife recently, "This is the first time in my whole life that I feel so useless. I don't know if it is me and a flaw in my character, or that I made a stupid decision to come to Canada as I shuffle from agencies to agencies always trying to get a job that doesn't conflict with my wife's ob schedules. " But he added: "I always go back to the reason why we came. That is for my kids."
With all these, it's my prayer that, Ghanaians help themselves just as the way the Indians do. Continental Africans have not done a good job of revealing the realities of life overseas. Many times, friends and family back home get a one-sided story about what really goes on in the lives of black people in foreign lands. For example, Africans living in Africa are often told that "money is easy to come by" but fail to give tremendous details of what they really go through even to get jobs.
Like a colleague recent articulated about African immigrants in a recent piece, a number of Africans living in North America quit school in order to work menial jobs so that they could send money and gifts to their overly demanding family members. Some Africans are pushed away from achieving their dreams and get involved in crimes in order to feed their relatives' expensive taste for material things. These relatives are less supportive of their long term goals and more excited about getting money to live it up!
Meɖekuku, ye ŋkɔe nye Edmund Agbeko… Mia ga do go… (Please, my name is Edmund Agbeko and we will meet again) Share your views with me via [email protected]