Maritime dispute: Ivorians are wicked friends- Baako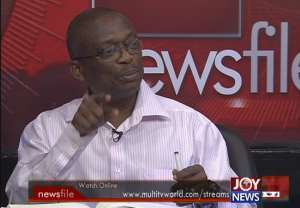 Editor-in-chief of the New Crusading Guide Newspaper Kweku Baako Jnr has lashed out at the Ivorian government for deciding to claim ownership of the land where Ghana's Tweneboah-Enyera-Ntomme (TEN) oil fields are being explored.
He said the Ivorian's action is unfair to Ghana.
Speaking on Peace FM's morning show 'Kokrokoo', Mr Baako said "I think the Ivorians are insincere, inconsistent and dubious. The inconsistency and duplicity that is informing them is sad".
He wondered why Ivory Coast is now laying claim to a boundary it acquiesced to and believed it was owned by Ghana until oil was struck.
"Records and history shows that they did not give a damn about all those things, but once we have found oil they are trying to review and rewrite history".
"The inconsistency and the duplicity that is informing them bothers me and for once I think they being very wicked friends", he added.
Mr Baako says he hopes that the final verdict that will be given on the case will favour Ghana.
Cote d'Ivoire is laying claim to Ghana's territorial waters at West Cape Three points currently being operated by oil giants Tullow under the Tweneboah-Enyera-Ntoumme (TEN) project.
Several attempts by the Attorney General Marietta Brew Appiah Oppong to resolve Cote d'Ivoire's concerns were futile with the country insisting that the area belongs to them.
Cote d'Ivoire kept creating problems for operators on the field and proceeded to send a threat later asking the explorers to halt operations in the area.
In September, 2014 Ghana then proceeded to the Special Chamber of the International Tribunal for the Laws of the Sea (ITLOS) in Humburg, Germany after 10 failed attempts at negotiating with Cote d'Ivoire.
Cote d'Ivoire prayed the chamber to order Ghana to suspend all oil exploration and exploitation is the disputed area including the TEN project but the ITLOS last Saturday rejected the request.
ITLOS also ordered a number of provisional measures which both Ghana and Côte d'Ivoire are required to comply with - including continued cooperation until ITLOS gives its decision on the maritime boundary dispute which is expected in late 2017.
Story by Ghana | Myjoyonline.com | Naa Sakwaba Akwa | [email protected]