Salutations To Trainees Teachers And Nurses—NPP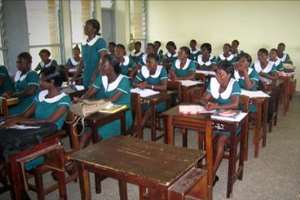 "The battle is the Lord's" says Nana Addo the hope of Ghana come 2016. As a youth patriots of NPP I wish to thank all trainees teachers and nurses for making a very wise choice to the profession chosen. The profession chosen is a noble profession which people and leaders of our dear country must worship.To be a nurse or a teacher is like to be a servant since the profession is to serve Ghana.
The leadership of our dear nation must applaud parents and guardians who have supported these professional-to-be teachers and nurses financially despite the difficulties. Past government have shown concerns about the wellbeing of teachers and nurses trainees by giving them a helping hands through the allowances.
The NPP government did not cancel the allowances of the trainees and even upgraded the certificate of teachers trainees to diploma level.This is a big blessing to our colleges of education and nursing. Under this John Mahama-NDC government the allowances of the trainees is no more.The NDC government has scrapped the allowances of the trainees teachers and nurses.
This highlight the irrelevance NDC-MAHAMA government place on our education and teachers trainees wellbeing in this nation.The colleges of education paid a fees for one year amounting to 4500 to 5000 Ghana cedis .
Upon all these hardships the government has caused our trainees teachers and nurses ,the government has directed all institutions to pay for their utility. The teachers trainees pay almost 600 Ghana cedis for a yearly examination conducted by institute of education. Upon all these hardships the government has caused parents through 'dumsor dumsor' and unemployment, the wards of these parents are paying such a huge amount before they serve the health and educational needs of Ghanians.
The government has failed teachers trainees woefully. The Mahama government promised in 2012 campaign to upgrade colleges of education to tertiary level and even build additional ten (10) colleges in the ten regions of Ghana. The performance of our educational system is abysmal since students don't get lights to learn,prep and for computer classes.The future of our dear nation is being jeopardize with by this current Mahama-NDC government.
As stated by Manesseh Azuri Awuni on his Facebook wall 20/04/2015" About 80 senior high schools in thethree regions of the north cannot reopen because of the failure of government to pay their feeding grants, Joy FM reports.
Meanwhile government is about to roll out the free SHS programme for all senior high schools in the country. Things they do for votes! How sustainable is this? Anyway, President Mahama's children do not attend
school in Ghana. And the politicians whose children attend school in Ghana have them mostly in private schools ".This indications clearly shows how the NDC government has ended our educational system.
The school feeding is dying out.What has Ghanians done to this NDC government to deserve this punishment? A better Ghana agenda without a better education agenda is like an empty container.
I am grateful that Nana Addo has stated to restore hope in our educational and health sector by restoring the trainees teachers and nurses allowances. This doesn't end there, Nana Addo has also promised to pay all the trainees nurses and teachers who were rejected by the NDC government for not paying them the allowances.I am therefore appealing to religious bodies, traditional rulers, Parents, health workers, trainees teachers and nurses ,businessmen and women ,philanthropist and all loving Ghanians to welcome such a move by supporting NPP and Nana Addo Darkwa come 2016 to capture power and restore hope in our education.
Nelson Mandela once said "Education is the most powerful weapon which you can use to change the world"
REMEMBER EDUCATION IS THE KEY TO SUCCESS and as stated by Martin Luther King, Jr.
"The function of education is to teach one to think intensively and to think critically. Intelligence plus
character - that is the goal of true education" Let support NPP and restore hope in our education and health.Remember that "GHANA NEEDS LEADERS THAT THINK ABOUT THE NEXT GENERATION AND NOT THE NEXT ELECTION"
GOD BLESS GHANA!
GOD BLESS ELLEMBELLE!
GOD BLESS NANA ADDO!
GOD BLESS KWESI BONZOH!
GOD BLESS NPP !
PETER ACKAH
..........signed. .........
(NPP COMM.MEMBER ELLEMBELLE)
(A MEMBER OF CRITICAL THINKERS- 0547946200)