NPP Should Accept Itself As A Tribal Party, And Then Move On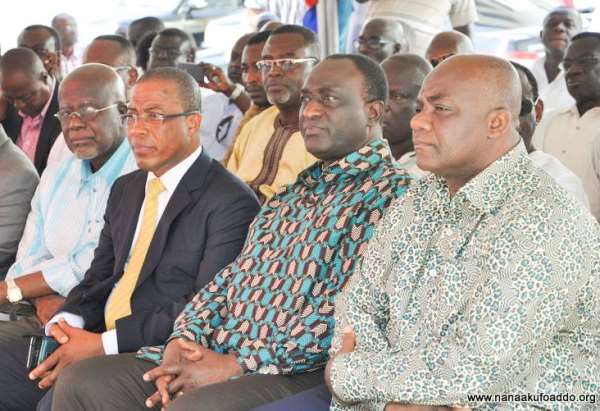 There has been long debate since the days of J.B. Danquah as to whether the UP/PFP/NPP is a national party or a tribal party. Anytime, this debate seems to die down, then a leading/founding member of the party comes up and say something that goes to confirm that indeed the UP/PFP/NPP is a tribal party.
You see, the NPP keep losing elections in Ghana because they have not been able to identify their true identity. Ghanaians are not voting for them because they don't know who they are, and when their leaders and founders come and define who they are, the membership disagree. It is about time the NPP accepts the fact that they are a tribal party so they can move on in opposition. As a tribal party, they should concentrate on campaigning in only the Eastern and Ashanti Regions because those are the two regions they may win. The NDC is going to make those regions game changers in 2016. You watch!
It was Mr. Victor Owusu, the Presidential candidate of the PFP in 1979, who first described the Voltarians as inward-looking. If someone is inward-looking, it means he/she is interested in him/herself. He is not interested in other people. There are so many things that go with someone who is inward-looking and Victor Owusu and his PFP/NPP are the ones who can tell us why he made such a silly statement. Victor Owusu painfully lost the Presidency to a better less-known candidate.
In 1992, when the Presidential race was between Chairman Rawlings and Prof. Adu-Boahen, the campaign slogan of the NPP was that "Ye gye ye man" which literally means, "we want our country back." This was the beginning of the Akyem/Ashanti mafia against the rest of the people. Lo and behold, the rest of the people voted massively to make Chairman Rawlings the first President of the fourth republic. It also went to confirm that the rest of the people were more than the Akyem/Ashanti mafia group. By the way, what did "Ye gye ye man" mean? Seriously, if you don't consider your party as a tribal party, would you even think of making that statement your slogan?
Then came Nana Akufo-Addo, the Presidential candidate of the NPP for 2008, 2012 and 2016. He described himself and the rest of the NPP as "Yen Akanfo" which literally means "We the Akans" The greatest country in the world, America has its constitution starting with "We the people" This goes to show that in America, there is unity and every American is a rightly owner of the country. Can we say the same thing about "we the Akans?" What did Nana Akufo-Addo mean when he said "Yen AKanfo?" Is that different from what Victor Owusu said and is that different from their 1992 campaign slogan?
So many of such tribal/war/satanic statements have come from big guys in the NPP but Ghanaians have tolerated them and accepted them into their fold even though they keep disturbing their peace. As when things seems to be calming down, a former Presidential candidate of the same party (NPP) Mr. Yaw Osafo-Marfo has come out more forcefully to declare that the NPP is a big tribal party meant for those who are rich in resources. Nana Addo made his dangerous statement in Eastern Region and Osafo-Marfoalso made his satanic statement in Eastern Region. Who is the President of the Eastern Regional House of Chiefs? Do you think all these are mere coincidence?
The tribal nature of the NPP is like a pregnant woman. The NPP tries to hide their tribal thing to deceive the public but in due course, that identity comes out and everybody sees it. The NPP can run but it can't hide. They can go to all the radio stations and on TV to deny that they are not a tribal party, but the facts are there for all to see. The most annoying thing about them is that when the evidence is clear for everybody to see, then they do politics of equalization. When Yaw Osafo-Marfo said"even though close to 90% of Ghana's resources are concentrated in Akan-dominated areas, it is non Akans who come from areas without resources that are at the helm of governance", the NPP are doing politics of equalization by saying both the late President Atta-Mills and President John Mahama also went to their home towns and asked that they should vote for them because they are one of them. In fact, The NPP is a dead rat. This is why I say in my articles that they make arguments as if they are not mature.
The NPP are proud and not ashamed to defend demonic statements like these by OsafoMarfo "You have all the tape telling resources, but you have no say in the management of your resources, and that is what is happening. Your development depends on the one who has no resources. You can't say this openly but we are at liberty to talk about it amongst Ashantis. We should protect ourselves, we should protect our income. No one, who is the source of income, the source of revenue, the source of resources; allows another person without those resources the chance to rule over them. It's never done anywhere in the world. In the world over, it is the group with the most resources that rules and not the other way around." So you see why all these demonstrations by the NPP? They just want to rule over our resources. They have no better plans for Ghana, but they have the guts to defend these satanic statements. They think all is well because they are a tribal party and on their way to losing the next big elections. So what? After all, in South Africa the opposition party has lost elections since 1994.
I read that Mr. OsafoMarfo has come out to say the tape has been doctored. Let us say, that is true. So Mister, where is the original tape? Why can't you come out with the original tape to clear yourself of any wrong doing? On the other hand, why don't you want to go to court and press for some charges? When people are defining the true identity of their party and they are caught, their only defense is that the tape was doctored. If the tape is doctored, bring out the original tape. This should be simple to do.
I again read that Dr. Nyaho-Tamakloe, a founding member of the NPP is asking Nana Akufo-Addo to distance himself from the statement by Yaw Osafo-Marfo. I see this request as a joke. Nana Addo himself is a tribal figure leading a tribal party, so how can he condemn a tribal statement? Doesn't Dr. Nyaho-Tamakloeknow that Nana Addo and Osafo-Marfo are one? Doesn't he know that Yaw Osafo-Marfo is marked down as the Chief of Staff in Nana Addo's government? Please, Dr. Nyaho-Tamakloe, ask for the things that can be done or achieved. Asking Nana Akufo-Addo to distance himself from these tribal/satanic statements is as impossible as Nana Akufo-Addo winning the Presidency. He is an expired commodity, who is 70 years old and sick. He moves and talks slower now than 2 years ago.
Meanwhile, Friends of John DramaniMahama (USA Chapter) is still accepting applications for membership. Registration of free for now. If you have not registered, please call the number below or send an email and someone will welcome you warmly. Membership is open to very Ghanaian.
Lawrence Appiah-Osei (Protocol)
Chairman
Friends of John DramaniMahama (USA Chapter)
[email protected]
703-400-1621