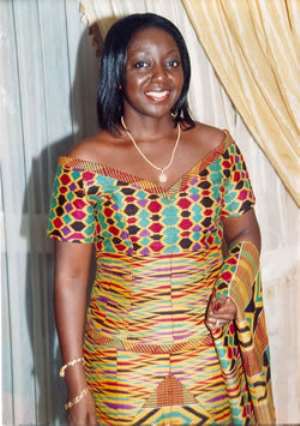 Dear Lady Julia,
I understand you are the lovely and highly educated wife of Asantehene Otumfuo Osei Tutu II. I can only imagine how worried you are seeing and hearing the daily castigations of your husband by not only the Ashantis, his very subjects, but also, the other tribes.
Have you ever sat down a minute to think about why he is constantly ridiculed by the public and in the media? Are you happy about the many criminal acts he is constantly alleged to be involved in? Is it because he brings home money so you do not bother much about whatever he engages himself in; how and why he involves himself in such acts as long as they yield money returns to your family?
For one thing I know of, "Behind every successful man, there is a woman". Let me then pause to ask; is there a woman behind a failed man? Is there a woman behind, and being supportive of, a criminal, who is always a cynosure of all eyes but for bad reasons? In my view, this is the situation in which you find yourself.
Your husband, Asantehene Otumfuo Osei Tutu II, has been arrogating to himself political and traditional powers he is not entitled to. He has been colluding with illegitimates that he ends up enstooling as chiefs to steal lands from other divisions within Asanteman. He sells these lands, pockets the money and tells the subjects of the exploited or swindled division that he is bringing investments or foreign projects to their area to create jobs for them and the entire Ashanti region. It is never true that he is bringing any foreign investments to them but rather, he has devised a clever means to rob them in broad daylight.
Asanteman is divided into divisions. Each division has its own divisional head called an Omanhene. No Omanhene has the right to extend their powers and influence over the people and lands of other divisions'. Your husband is the Omanhene of Kumasi division as say; Mamponghene is the Omanhene of the Mampong division or Juabenhene the Omanhene of the Juaben division. Therefore, it is completely false the claims by your husband that he has complete overlordship on the entire Asanteman and therefore can exercise despotic powers over the entire lands and people of Asanteman.
I have all the documentary evidence to prove to him that when it comes to the position of Asantehene, he is a mere Ceremonial Head. Therefore, his false claims to the contrary must stop. Please, whisper in his ears at night when you are in bed with him that Rockson Adofo from Kumawu says he has committed a legal and traditional faux pas by claiming to have absolute right to impose a person of his choice on Kumawuman citizens as their Omanhene.
He is on the precipice of causing the disintegration of Asanteman. His tyrannical rule, his lack of respect for the laws governing the Asante Confederacy, his fondness of hiding behind his friendship with President Mahama to act roguishly thievingly, will lead him nowhere, but are rather the factors that will bring about the collapse of Asanteman (Asante Confederacy).
Would you mind to advise your better half to steer clear of Kumawu stool disputes? He will never be given the green light to sell Kumawuman Afram Plains stool lands to the Norwegians in the belief of bringing foreign investments to Ghana. I am sorry to announce to you that your husband is a crook. He has the obligation to reform his character. He cannot continue to exhibit his youthful yobbish and criminal life led many years ago in Canada and the UK.
Please, tell him that the heavily armed security personnel (soldiers & police) that he has connived with Joseph Yammin, the Ashanti Regional Deputy Minister, and Ashanti Regional Police Commander Kofi Boakye to send to Kumawu to intimidate the people will never perturb the determination by the Kumawuman citizens to not accept Dr Yaw Sarfo (Barimah Sarfo Tweneboah Koduah) as their Omanhene. The people from their own wisdom have appointed a chief they feel proud of. He is the person of Barimah Tweneboah Koduah V.
I hope you will act on this open letter to you, for it is said in an Akan proverb, "When it touches your heel, it has touched your bottom". Additionally, "respect is earned but not commanded"; tell this to your obstinate husband. He has also to bear in mind that, "Obstinacy is the cause of the horns of the hornbill"
Yours Sincerely,
Rockson Adofo