University of Ghana SRC asks students not to pay fees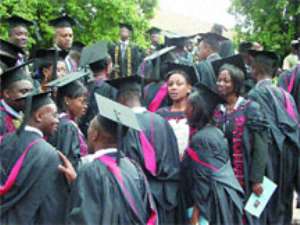 Accra, July 19, GNA - The Students' Representative Council (SRC) of the University of Ghana on Monday asked students not to pay any fees for the 2004 / 2005 academic year.
A statement signed in Accra by Ms Josephine Adwoa Ashia, Acting SRC President, said this was because negotiations on the subject with the university authorities were scheduled for this week.
The University Students' Association of Ghana (USAG) also said on Monday that it had accepted to allow a few more days for negotiations between the administrations and the Students' Leaderships of public universities on fees to be paid for the 2004 / 2005 academic year.
This follows discussions between USAG and the Sector Ministry on July 15, according to a statement signed in Accra by Mr Keli Kwesi Delataa, President and Mr Kwame Amponfi Jnr, Secretary of USAG. The statement said the university authorities were being "encouraged to take advantage of the renewed commitment of students to negotiate as the only way of resolving the utility-user-fee impasse".
USAG said pending the outcome of such discussions, freshmen and women and continuing students of all public universities should not pay the new fees for the 2004 / 2005 academic year.
"Students who for purposes of convenience would want to make some payment should not pay any amount more than the fee schedule for last academic year."
USAG said it was committed to a peaceful and uninterrupted academic calendar and would support any effort that sought to make these possible through "frequent and equal interactivity between all stakeholders".
Mr Teddy Konu, Registrar, University of Ghana, Legon, on Thursday described as "a lie" the assertion of the Students' Representative Council (SRC) that it was not consulted on the 2004 / 2005 academic fees.
"If the SRC says it was not consulted in arriving at the 2004 / 2005 academic fees, it is a lie because they have a representative on the University Council that sat to approve the fees," Mr Konu told the Ghana News Agency in an interview.
Explaining the rationale for the increase, Mr Konu said the University had introduced a technology service fee making computer literacy a requirement for every student.