December 29, 2014
|
Diaspora Diaspora (Italy)
NDC Italy Congratulates Delegates For A Successful Congress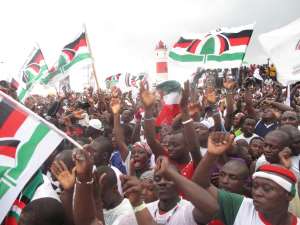 The leadership of NDC Italy wants to express her appreciation and thanks to God for seeing the great NDC through it's 2014 National congress held at Kumasi on 20th December.
We congratulate all Delegates and participants for their roles that saw a successful and a peaceful congress. We want to remind all and sundry that in competitions like these, there are bound to be winners and losers and these are normal to such a situation. However, for the good health of the party, the party NDC is the WINNER in order to pave way for a strong united front.
We once more congratulate you all for the love and maturity demonstrated throughout the congress. We pray that those who are rightly elected into office unite with the much experienced once and for that matter the old executives in order to tap their experiences that saw the party winning elections. Unity and hard work must be our watchword.
Long Live N.D.C, Long live Ghana. Eye Zu ,Eye Za.
Signed
Secretary:
Francis Darrah