NPP Takes On Mahama Over Greenstreet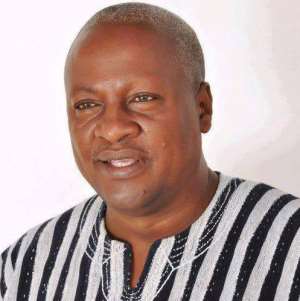 The New Patriotic Party (NPP) has jumped to the rescue of Ivor Kobina Greenstreet, General Secretary of the Convention People's Party (CPP) over recent attacks on him (Ivor) by key and influential members of the ruling National Democratic Congress (NDC).
Mr Greenstreet suffered various forms of verbal abuse after delivering a tongue-lashing solidarity message in which he raised issues about the myriad problems confronting the nation at the NDC congress in Kumasi over the weekend.
It was followed by attacks on his personality from President Mahama; the Majority Leader in Parliament, Alban Bagbin and communications specialist at the office of the president, Sam George Nettey, in oblique reference to Mr. Greenstreet's disability since the gentleman is confined to a wheel chair.
Whiles the president said Ivor Greenstreet was suffering from an 'incurable selective myopia', Bagbin claimed he had been possessed by demons, with Sam George saying he needed an elevator to see the 'Better Ghana' promised by the NDC administration.
Concern
The NPP said, 'We are disturbed by the terrible insults heaped on the General Secretary of the CPP, Ivor Greenstreet, in the aftermath of his solidarity message to the conference.'
In a statement, Communications Director of the party, Nana Akomea, wondered whether 'one needs an elevator to see 'dumsor-dumsor' or the calamitous fall in the value of the cedi' and whether 'one needs to stand on ones' feet to see the horrible hardship that Ghanaians are in today or the unspeakable corruption around us.'
That, he said, was because 'the two-and-a-half years 'dumsor-dumsor', which is worsening even at this time, the historic fiscal deficit levels, calamitous loss in value of the cedi, the unbearable cost of living, the worsening youth unemployment situation and the unspeakable corruption today, all attest to the performance of the NDC government.'
Apart from that, Nana Akomea indicated that 'the government going cup in hand to the IMF for a bailout is the clearest admission of their failure' coupled with a poor performance rating.
Doubts
He therefore could not fathom why the president would think that Mr. Greenstreet was motivated by partisan quest to win power and that he was wearing politically tainted lenses that made him difficult to see reality, asking rhetorically, 'Is criticism today equated to not seeing reality?'
Nana Akomea further wondered, 'What about all the criticism that President Mahama had made in opposition to national welfare issues such as the NHIS, LEAP, NYEP, and the proposal for the Savanah Development Fund, among others?' and 'how about the other criticism of government performance from labour, the clergy, civil society organizations, international newspaper, magazines and even from the NDC itself?'
Message
The NPP however, congratulated the NDC on a successful conference to elect its new executives.
Whiles congratulating the newly elected executives on their assumption of office and prays for a useful working relationship between the two parties in furtherance of democracy in Ghana, the NPP noted, 'We remain unperturbed by the election of new executives to run the affairs of the NDC.  We have no reason to.'
This, it said, was because 'It is clear to us that the NDC is in a state of Disaster Management, as the leadership of the National Disaster Management Organization (NADMO) has assumed the management of the party at this stage.'
For them as a party, Nana Akomea indicated that the key issues for election 2016 are mainly three; 'the performance of the NDC government, clear alternative that we will offer to the people of Ghana' and 'protection of the ballot.'
The NPP is therefore confident that it has 'clear, workable alternatives that the people of Ghana will buy', insisting 'our ability as a party to limit the opportunity for electoral fraud and manipulation will also be key in 2016.'
By Charles Takyi-Booadu